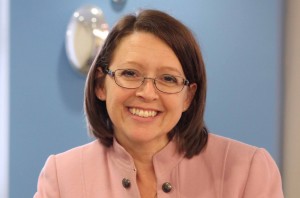 Jackie Toole NTT Data Consulting Excellence in Financial Services
According to Jackie Toole, vice president and account executive for NTT Data Consulting, 2015 marked a significant milestone for her and her team of about 125 fellow consultants as they successfully completed a multi-year technology conversion event for one of the largest clients of NTT Data—formerly Carlisle & Gallagher Consulting Group.
"I was on the ground with my team and the client from the very beginning of this event—one of the largest credit card conversions in the industry, Toole says. "In addition to helping our client meet its business goals, the multi-year effort resulted in many memorable accomplishments for NTT Data Consulting, myself and my team, including a significant revenue stream for the firm, growth and development opportunities for the leaders on my team, and the advancement of my own consulting skills."
As as account executive for NTT Data, Toole is currently responsible for one of the firm's largest financial services account portfolios.
"I enjoy the constant variety of consulting—new teams, new clients, and new problems to solve—while maintaining the continuity of a trusted team of colleagues at the firm," Toole says. "The ever-changing client opportunities allow me to meet new people and work through new challenges. There are very few dull moments in consulting!"
Toole says she attributes her success to the following three factors: Always doing the right thing—for her client, her firm, and her team; Never avoiding the difficult, for example, telling the clients what they need to hear versus what they want to hear and giving employees and teammates direct, yet supportive developmental feedback when needed; and, Always maintain a healthy work/life balance.
"Creating win/win results motivate me," Toole says. "I love my work the most when I am able to facilitate solutions that result in success for my clients, my team, my firm, and my own personal growth!"
To that end, Toole says that over the course of her career, she's had the privilege of coaching and mentoring talented women and men and says she is most proud of the connections she has made with them.
"Many continue to seek my input or thank me years later for the positive impact I've had on their personal and professional development," she says. "In addition, as a consultant, I am proud of the fact that each of the clients I've worked with over the years view me as someone they can trust to offer consulting solutions that always put their personal and business goals front and center."
What does winning the award mean to you, your firm and clients?
"To me, the most important component of a successful client/consultant partnership is trust. I work hard to establish and maintain that sense of trust with clients and teammates and I see this award as affirmation of that philosophy and a recognition of my successful efforts. For my firm and clients, this award further validates our position as a top financial services consulting firm and will facilitate additional partnerships in the future."