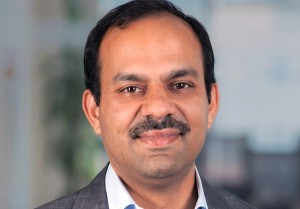 Arjun Sethi A.T. Kearney Excellence in Leadership
Arjun Sethi is a partner with A.T. Kearney and the global and Americas lead for the Digital Transformation Practice where he focuses on developing strategies that transform clients' middle and back-office functions and enhance revenue growth.
Sethi says he's proud that he is "setting the agenda and future strategy for the Global Digital Transformation practice at A.T. Kearney and launching our Digital Center of Excellence with specialists in global locations, including India."
He leads engagements for C-Suite executives, guiding them to rethink existing operating models and implementing broad-based IT-enabled business transformation. His clients include leading financial institutions, high-tech, and consumer products companies, including some of the largest IT and Operations transformation engagements at A.T. Kearney for global Fortune 100 organizations.
Sethi says he has a deep sensitivity to the fact that clients are placing significant trust and faith as they open their doors to A.T. Kearney, and that the firm has the ability to have long lasting impact with clients' organizations. "We have the ability to unleash future potential for organizations, their employees, shareholders, partners, and pretty much the entire ecosystem in which they operate," he says.
Meanwhile, working with a cross section of C-suite executives, "who have developed a relationship of trust and faith with me and for whom I have delivered lasting, multi-billion-dollar impact" has been one of his major accomplishments thus far. Another? "Setting up the early right shoring and shared services practice at A.T. Kearney and then leading the Strategic IT and now Digital Transformation practice in the Americas and globally."
In addition, as the head of the Global Digital Transformation Practice, he is continuing to build new capabilities and consulting models across A.T. Kearney. He has developed a Digital Specialists career track to deepen the firm's digital capabilities that are needed to meet clients' most advanced needs. Further, Sethi has launched Practical Digital, the firm's suite of differentiated and compelling offerings in the digital arena.
The novelty that the profession brings—the ever changing nature of complex challenges that he and his team can solve for different organizations across industry segments and the globe is what excites him about consulting, he says. But that's not all. It's also the opportunity to work with some of the smartest people on the planet.
Those people are the reason he was recognized as a Top 25 Consultants, he says.
"It is a great acknowledgment of the work we are doing in building out the Digital capabilities," Sethi says. "We are in the age of explosive change and our efforts to help our clients navigate the challenges and opportunities from Digital forces are being widely recognized."
What's the biggest factor to your success?
"An amazingly collaborative team and a nurturing culture that is so unique to A.T. Kearney. Together with values that emphasize "essential rightness" of advice that we render and a singular focus on creating lasting and measurable impact at clients."