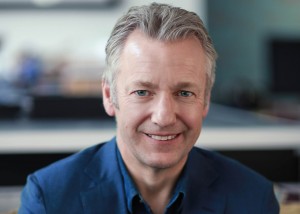 Andy Main Deloitte Consulting Excellence in Leadership
Before Andy Main could reinvent clients' businesses, he had to reinvent his own. "The consulting industry needs a bit of a shake up," he says. "The way you do that is bring creative thinking to the business." His model—Creative Digital Consulting—replaces issue-based consulting with ambition-based consulting and provides stronger customer experiences, makes core operations more effective, and unleashes the power of surprise, he says.
He's also unleashed his power on Deloitte. "One of my top contributions has been leading Deloitte Digital into a new market, largely in part because I set the most recent strategy for building it into a creative digital consultancy," Main says. "We were the first to actually make that happen, which I'm incredibly proud of. I truly believe that what we've done has shifted the market, and it's not often you can say that."
Main, a Partner and head of Deloitte Digital, says clients appreciate and respect the firm for that. And, as a result, Deloitte's seen a new wave of interest from brands wanting to work with the firm. One of Main's first targets was trash. A refuse hauler found its services commoditized, so Main used an Internet of Things approach to reinvent the business through a customer lens. For a carmaker, he helped drive more dealership visits that took less time.
Sometimes it's for a $50 billion global manufacturer, sometimes it's for a not-for-profit like Compassion International, but Main says he's always proud when his team's work helps change a client's business for the better.
"Every project has a measurable outcome," he says. "I think I've depended a great deal on entrepreneurial thinking that results in something happening."
It's one thing to have a good idea, he says, it's another to convince thousands of people that it's a good idea too, and then actually have the support and the resources to execute it. "I would be nowhere without my great team," he says. I enjoy leading people and putting new teams together to try out new things."
For example, Main says when he created the Creative Digital Consultancy, the firm was reinventing its business model and putting so many moving parts together to make it happen.
"It was an exciting time, and it still is. Someone has to go first, and it may as well be Deloitte Digital," he says. "And as a result, Deloitte Digital has really come out of nowhere in the last four years to become a globally recognized brand."
What does winning the award mean to you, your firm and your clients?
"It's a great honor to be recognized as someone who's leading the way. And that extends in all directions: My success is based on helping other people be successful, and that's made possible by the success of the people I work alongside. I got this award because others did the work that built our brand, made our business, excelled with our clients and made our market. "