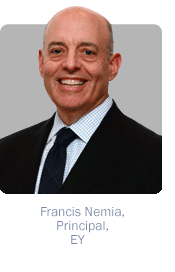 These days every company has some semblance of an IT strategy, but how effectively and efficiently it operates can vary widely. Undertaking transformational efforts like hybrid cloud enablement, data center network virtualization and segmentation, enterprise mobility management, governance risk & compliance (GRC), and cybersecurity services are just some of the ways companies are overhauling their digital strategies. To help companies get the most bang for their IT buck, EY has announced an alliance with EMC seeking to give companies more confidence in these and other digital initiatives. To talk more about the alliance and the challenges companies face taking on such efforts, we spoke to EY's Francis Nemia, a principal who is also the global alliance sponsor.
Consulting: How did the alliance between EY and EMC come together?
Nemia: In 2010 we had, in effect, just been re-entering the consulting market. We had sold it in 2000, and in 2008-9 we came back on the journey to reinvigorate the consulting practice, the advisory practice. In 2010 I was up in Boston and they asked if I'd take on the global coordinating service partner role. That year EMC World happened to be in Boston, and I attended to better gauge what the account was going to be like, what EMC was all about. As I was meeting them my perception of EMC as well as their perception of EY was one of more a legacy of what the companies were rather than what they were transforming into. As I learned more about EMC I better understood [EMC CEO] Joe Tucci's vision in building a global leader that enabled the businesses and service providers to really transform their operations and how they deliver information technology as a service. I also recognized that their breadth and depth in working with organizations and industries aligned very well to our base of clients. When we looked at what EMC offered we felt they were clearly part of a number of companies that were best in class and we believed our clients recognized that.
Consulting: What was behind the timing?
Nemia: It really was our Vision 2020 strategy to double revenue and resources. We were looking to different ways to drive our revenue growth as part of that. The firm had many alliances prior to selling our consulting practice, and the firm's rationale in looking again at the alliance structure was based on the types of offerings we could bring to the market and that were recognized by our clients. We were very selective as we started to go through that process but it was really all driven off of our growth strategy in how we believed that we could improve upon and grow our marketshare as well as improve upon our service. It allowed us to bring people to the table that frankly had process background, sector background, and we were able to bring that type of talent to the table that was complementing the offerings we were bringing to bear. Our feeling was this was a significant part of our growth strategy moving forward.
Consulting: What are the big stumbling blocks companies encounter revamping their IT strategies or digital transformation efforts?
Nemia: Normally what's happening is that we see they may not necessarily have all the resources in place that can help them straight out implement a solution or bring that solution to bear. We've been involved with governance and risk & compliance space, we have clients that will purchase that and maybe initially implement it but there's a lot more that goes into the process side implementing a GRC solution. Because of our background and involvement with understanding the product and the risk and control side of it, we bring that expertise to the table companies may not necessarily have in-house. So we're capable of brining that additional expertise to bear that helps complement not only the product itself but gives the company a more comfortable feeling that what we're driving is a solution based on experience on our process background and our security and controls background.
Consulting: Do companies underestimate the difficulty of implementing an IT transformation of this scale?
Nemia: Generally speaking it'll depend on the size of the company, but I will say there are some that will say 'we think we've got this', or 'we think we've got the majority of it.' We try to stay as close to them as we can to get them comfortable that at the end of the day while we may come in as two different teams we really end up wearing the same jersey by the end of the implementation or support we're providing them. What they come to find out is we have complementary skill sets that work with them in where at the end of the day they found they may be falling short. That's where we believe we're capable of helping them better understand the complexity of what they're getting involved with and supplement some of the shortcomings they may have over the journey of the work that is being performed.