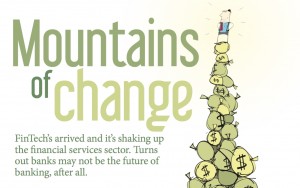 Turns out banks may not be the future of banking. FinTech's here and it's shaking up the financial services sector.
By Eric Krell
It's a new kind of company sending shockwaves, the good kind, through the financial world! SoFi decided that banks aren't going to fix banking, so they brought some Silicon Valley smarts to the table. Unlike the big banks, SoFi is designed for the 21st Century. They're progressive, they're nimble. They're innovative. They don't judge their members based on a FICO score …And because SoFi is not a bank they can provide services and rates that the banks cannot. If you are looking for a financial partner designed for the 21st Century, visit SoFi.com and discover why banks are not the future of banking any more.
This paid spot that online-sports/media-pioneer Bill Simmons reads on his HBO podcasts crystallizes the ways that financial technology (FinTech) companies are agitating the financial services industry (FSI).
The ad features one of the many FinTech players sending disruptive waves through the industry. Additionally, SoFi's marketing features some bold narratives: The industry is broken. Traditional banks can't fix it. We may be headed toward a bank-less world. SoFi's marketing channel—in this case, the podcast of Gen-X personality embraced by Millennials—marks a grab at an increasingly valuable, yet underserved, customer segment.
"The consumer is consuming financial services very differently today compared to seven or eight years ago," says KPMG Financial Services Advisory Line of Business Leader Jitendra Sharma. "And a significant part of this shift relates to demographics and the rise of Millennials." Sharma and other financial services consulting leaders also emphasize that FinTech players—and their data-fueled, customer-centric technologies—are roiling the industry with new challenges and opportunities. FinTech companies are "changing customer expectations," says Ashwin Adarkar, the regional leader for North America of the Financial Institutions practice at The Boston Consulting Group. "And that's requiring banks to do things differently."
This mandate for change exists at a point when banking's future is also being shaped by sagging oil prices, stagnant interest rates and brand new regulatory challenges.
Low Rates and Energy Prices, New Competitors and Regulatory Expectations
Many of the major forces currently creating challenges and opportunities for financial services companies are quite familiar. They've existed for years, and have recently taken on new dimensions. FSI consultants identify the following change-drivers as having the greatest impacts on clients:
An interest-rate reversal: For more than a year, large U.S. banks invested significant time and energy in reconfiguring their balance sheets to prepare for a long-awaited rising interest rate environment. A spike in global economic volatility promptly stalled the return of rising rates following the Federal Reserve's initial December nudge. "Because interest-rate increases had been anticipated for some time, a number of financial services firms integrated rate increase into their budgets," says Adarkar. Now those budgets need to be tossed and updated—for now, anyway. The still-low interest rate environment prolongs the need to reduce costs, a pressure many companies in the industry have been responding to for two-plus years.
Low oil prices: In the first quarter, several large banks warned of energy-loan losses brought on by the staggering decline in oil and gas prices. This decline so far shows few signs of reversing. In late February, JP Morgan Chase & Co. announced that it planned to beef up its reserves for oil and gas by roughly $500 million. For its part, Wells Fargo reported that it would set aside more than $1 billion for potential losses related to loans to oil-and-gas companies whose ability to repay those advances has deteriorated with oil prices. Low oil prices have lasted longer than many experts projected, and the trend is" affecting banks with exposure to oil-driven business," says Ernst & Young Vice Chair and Regional Managing Partner of the Financial Services Organization (FSO) Anthony Caterino. "In some cases, we're seeing profits beginning to strain."
New regulation and new regulatory expectations: "Ongoing regulatory pressure continues to be one of the biggest drivers for change," notes Crowe Horwath LLP Managing Partner, Financial Services Mike Percy. That said, the nature of this pressure has evolved. The post-crisis wave of major new regulatory requirements (Dodd-Frank, et al.) has moved past the "How to we comply?" phase into more of a "What are the longer-term business implications of compliance?" period. Many FSI companies must rebalance previous return-on-equity equations to adjust to the higher levels of capital that post-crisis rules require them to keep on hand. "The challenge now relates to the structural implications of some of those regulations," Sharma notes. Regulatory expectations are changing, partly in response to enforcement actions. "For existing regulations, the bar has been raised," Caterino says. "In the early years of these new rules, the need was for basic compliance. Today, the regulators want to see more insightful and comprehensive compliance—the type of compliance that's reflected in how a company conducts business." Add to this complexity a new round of largely tax-related rules changes, which, as Caterino notes, are "focused on transparency and information sharing, such as FATCA, the OECD's Common Reporting Standard and BEPS action items. These efforts have added to the industry's regulatory burden."
Technology threat and opportunities: Newish (e.g., Betterment) and not-so-new (e.g., PayPal) digitally-enabled competitors are competing in specific industry segments and offerings – banking, loans, mortgages, wealth management, insurance and more – by demonstrating that "bigger isn't always better, at least when it comes to operations that serve the client's journey," notes Genpact Senior Vice President, North America Banking and Financial Services and Global Insurance Sales Leader Scott McConnell. "Investment in legacy infrastructure is tremendous but with the emergence of digital technologies the financial services industry has changed, and the infrastructure that once served as a barrier to entry into the sector is now a handicap." FinTech is not the only tech-related development posing new risks to the industry. It's rare to talk to an FSI consultant without hearing the term "blockchain." A form of distributed ledger technology most well-known (to date, anyway) for underpinning Bitcoin, blockchain's disruptive potential has drawn comparisons to the birth of the Internet. Like any risk, blockchain and other technological disruptions pose threats and opportunities.
"You can think about blockchain and these other technologies as threats to the business model," says Deloitte Principal and U.S. Managing Director, Financial Services Joe Guastella. "But these technologies are also enablers that can help our clients address the pressures they're facing as result of changing customer preferences, regulatory shifts, and market volatility."
The Four Basic Client Need Groups
When it comes to FSI consulting, regulatory-related work is a constant. Four other areas of FSI consulting are also in high demand today; in its simplest form, this work relates to strategy, efficiency, customers and technology.
> strategy
The structural changes that regulations require combined with FinTech-related competitive adjustments and ongoing margin pressure are driving a growing need for strategic help. "We are going to see some of the large banks looking to get a little bit smaller," Sharma notes. "They're going to try to find the sweet spot for what works in terms of scale, while at the same time operating in nimble way."
Guastella agrees. "In many ways, it really is the rebirth of strategy," he asserts. "We find ourselves engaged in a more strategic dialogue around how clients can grow effectively in the current market, what kinds of businesses it makes sense to be in, how to double-down investments in places you really want to compete, and other major questions like that." A decade ago, many large industry players seemed to embrace a strategy of being everything for everyone, everywhere. That's no longer the case, as other FSI consulting leaders confirm.
"There is a growing need for business transformation," Caterino says. "We see companies rethinking strategy—divesting core assets, and leaving certain countries or product lines that are not core to their business. This need leads to a lot of strategy work and transaction structuring."
> efficiency
Caterino also describes a heightened focus on efficiency, "whether that's driven by margin pressure related to low interest rates, by growing regulatory requirements, or lower profits in sectors with oil-business exposures."
The need for lower costs and greater efficiency is not new, and that's a major part of the challenge. "People are saying, 'Gosh, I have to cut costs again,'" Adarkar reports. "But they're also thinking, 'You know what? I cut cost in 2014 and 2015—maybe this is just how things are going to be forever.'"
That realization is driving client companies to seek consulting help that extends beyond cost-cutting and ventures into evaluations of fundamental transformations of their economic model. If they opt to move forward with more comprehensive changes to their cost structures and operating models, they often want to fund the work with more immediate cost reductions in areas such as procurement. "That's one exciting aspect of consulting [to financial services companies] right now," says Adarkar, whose practice is helping clients with all aspects of efficiency-related work. "The work includes some traditional consulting focused on growing revenue and cutting costs. But there's also consulting around helping clients think about digitization and/or applying agile [development] techniques. It's not just about specific projects but also about building different capabilities, and thinking about new organizational constructs."
> customers
The rise of FinTech has shown traditional financial services companies the value of digitizing the customer experience. Of course, as Adarkar notes, it's much easier to deliver a fully digitized customer experience when you're building from scratch. It's also easier, in general, when you're not subjected to the same level of regulatory scrutiny as industry stalwarts (at least not yet).
Traditional FSI companies that previously organized their companies in business and functional silos are asking for advice in restructuring their companies in more customer-centric ways. "They're really thinking how the end-to-end customer experience should look and feel from the customer's point of view," Adarkar says. "And they're less concerned about traditional organizational units such as sales and marketing, operations and finance."
The nature of this work often veers into strategy, and it typically involves major technology components not to mention change management considerations. "It comes down to banks wanting to figure out how to interact with customers and enable their customer experience using mobile and digital channels," says Sharma, who says his practice is helping clients "figure out what customer strategies, product strategies and efficiency gains will enable delivery of a seamless client-customer experience."
> Technology
Technology-related consulting needs in the financial services industry cover a broad range of areas and topics. "No industry is more ready for digitization," asserts Guastella. He and other practice leaders say companies are ready for new customer-facing technology, new underlying technology platforms and capabilities, new customer analytics tools, new workforce analytics applications and more.
"Another by-product of all of this technological change is cybersecurity," says Caterino. "As companies continue to invest in digital, they've expanded their online footprint, which can create more data vulnerability. Clients are extremely interested in finding ways to fortify their cyber defenses." Percy agrees, noting that more banks are being targeted by cybersecurity threats than we used to think was possible."
Guastella notes that many industry clients want more than a traditional technology solution; they're seeking help developing—or enhancing—their ability to create, adapt and put in place new technology in the service of greater business agility. "Many of our clients are doing a good job at becoming nimble, if you will, in this area," he says. "Whether they use ventures, labs, incubators, accelerators, or other funding mechanisms, they have significantly improved the dimensions around introducing new technology into their organizations."
Those key enabling dimensions of technology integration include governance processes, talent management and risk management—which also represent areas where FSI companies want consulting help.
Talent Management Issues Also Arise
Many financial services companies face a growing need to turn their growing customer analytics capabilities inward to get a similarly nuanced feel for their own workforces.
"There are some huge talent concerns in the industry, particularly in banking," says Vicki Elliott, Mercer Senior Partner and Leader of the firm's Global Financial Services Talent Network. "I've been in the industry a very long time, and I cannot remember a time when competition for talent was more challenging."
The challenge is driven by several factors, including reputational and trust issues still lingering from the global financial crisis. Elliott says that negative perceptions of banking's reputation among Millennials, in particular, have hampered recruiting efforts. "Many within the Millennial population have a value set that is more oriented toward noble purposes and societal contributions," Elliott says. "And the banks have work to do around changing their reputation and rethinking their messaging around the employee value proposition they're offering to people."
The rise of FinTech companies—which often offer more alluring employee value propositions—also have intensified recruiting and retention challenges within the industry's larger, more traditional companies.
This has many traditional FSI companies exploring the use of workforce analytics to "gain a deeper employees and the external talent market so that they can make more informed decisions about the kinds of career frameworks they need to create and how they can make more appealing propositions to different segments of employees."
To be sure, FinTech companies and the approaches they use are disrupting—not crushing—many traditional FSI companies. These companies have moved beyond the initial shock of these competitive incursions to figuring out how to learn from them, often with the help of their consulting partners. "I don't see the FinTech players knocking JP Morgan or Wells Fargo from their top positions any time soon," Adarkar adds. "But they are creating different customer expectations for how financial services companies need to interact with their customers." How all industry participants, old and new, meet to fulfill those expectations will determine the future of banking.
Sidebar: Beyond the Bigs: Community-Sized Challenges
Banks of all sizes are looking for new ways to continue to drive down the cost of delivering service, improving convenience and enhancing customer experience, notes Crowe Horwath LLP Managing Partner, Financial Services Mike Percy. Technology, of course, represents a highly effective way to achieve all of these objectives. But Percy notes that smaller banks face unique technology challenges. "[S]ome of the new technology is cost-prohibitive for them," he points out. "That same technology brings new competitors and fewer geographic barriers. There's also an increased risk in cybersecurity and more banks being targeted for cybersecurity threats than we used to think was possible. In the past, community banks didn't view this as a threat, but now it is. With all the information being stored electronically and many banking transactions being done remotely rather than face-to-face, it can be difficult to catch the threat."
Sidebar: Outsourcing Gets at an Optimal Operating Model
To date, banking and other financial services companies have done a great job deploying outsourcing to lower costs and increase operating efficiency. They can do better: $60 billion better according to Genpact research. That's how much the firm estimates that the industry spends annually on operations that have not yet achieved their optimal operating model.
The trick to getting to this optimal state involves digitally transforming and/or outsourcing functions that have relatively low levels of standardization and those with relatively high strategic importance. That will strike some operations and procurement executives as a surprising option. After all, the decision whether or not to outsource (or even in-source via a shared services model) a business process traditionally started with assessments of the outsourcing candidate's strategic importance, customer-contact frequency and the extent to which it had been commoditized. Strategic, high-touch, un-standardized processes traditionally remained in-house. But those criteria are ripe for rethinking at a time when many financial services companies continue to seek major efficiency gains following two-plus years of cost-reduction efforts.
"Banks have already streamlined the most commoditized and less strategic functions across the middle and back offices," notes Genpact Senior Vice President, North America Banking and Financial Services and Global Insurance Sales Leader Scott McConnell. This streamlining, which includes various outsourcing models, generally has focused on functions such as finance and accounting, help desk, application support, operational reporting and other highly standardized areas. "Although continuing investment to further digitize these traditional candidates is important," McConnell notes, "the potential impact is muted by the fact that these functions already leverage better technology, processes, and organizational structures."
An even greater opportunity for banks, depending on their individual operating models and outsourcing experience, McConnell adds, lies in the emerging candidates. Previous outsourcing targets include compliance, reconciliation and exception management, product control, risk modelling, regulatory reporting, and managing social media. In some cases, customer segmentation, predictive analysis and customer-channel analytics also may be suitable for outsourcing. —E.K.
Sidebar: Banks Buy into Blockchain
In February, The Wall Street Journal reported that JP Morgan Chase & Co. was "quietly" piloting a blockchain technology project focused on currency clearing and settlement. The article added to a swiftly expanding body of mainstream reports on a technology industry insiders have been whispering about with greater frequency and urgency.
Blockchain is a distributed ledger technology best known, to date, for underpinning the crypto-currency Bitcoin. Blockchain appears to have numerous potential applications in financial services due to the technology's renowned data-encryption and transaction-verification functionality. The technology also may have transformative application outside the industry. Large public accounting firms are currently investigating how the technology could strengthen—or even do away with—external auditing.
"Distributed ledger technology creates a secure, traceable, immutable—use your favorite adjective here—record of a transaction between buyer and seller," explains Deloitte Principal and U.S. Managing Director, Financial Services Joe Guastella. That record is captured at the time of the transaction.
KPMG Financial Services Advisory Line of Business Leader Jitendra Sharma says that blockchain "holds promise for both internal applications as well as applications for facilitating transactions between financial institutions." It appears likely that blockchain will soon be applied to more payment transactions and asset-tracking processes.
"Blockchain is certainly being evaluated for a role in clearance and settlement of capital markets as well as a role in payments and related reconciliation processes," says Ernst & Young LLP Vice Chair and Regional Managing Partner of the Financial Services Organization (FSO) Anthony Caterino. "A number of our clients are evaluating ways to incorporate blockchain technology into their traditional back-office processing."
As those evaluations progress, it also appears likely that the whispers and air of secrecy that previously surrounded blockchain will be replaced by louder, more passionate C-suite discussions about investing in the technology. —E.K.