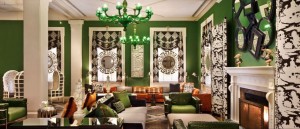 Kimpton Hotels & Restaurants announced the completion of a multimillion-dollar redesign to Kimpton Hotel Monaco Washington, DC
The building, a National Historic Landmark and the original General Post Office in the District, has been overhauled, including the lobby, hallway corridors, all 183 guest rooms and 16 suites as well as its three meeting spaces.
Hotel Monaco's new design, reimagined by San Francisco-based Paletteur, pays homage to the building and city's classical architecture along with deep roots in American politics and history while honoring the hotel's unique fusion of traditional and contemporary.
In addition, longtime Penn Quarter restaurant and landmark Poste Moderne Brasserie will permananently close its doors on May 31 to make room for a new restaurant set to open in the Hotel Monaco in the fall of 2016.