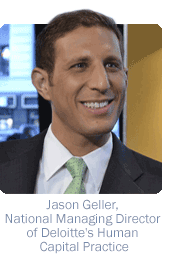 What makes a good leader? It's a difficult question to answer but it's a code Deloitte has been working hard to crack. To that end, the firm recently acquired Kaisen Consulting, which will leverage its business psychology acumen to help Deloitte clients develop leadership at all levels, operating under the 'Deloitte Leadership' name. Such a service is clearly needed—according to Deloitte's 2015 Global Human Capital Trends report, only 13 percent of leaders believe they are doing an excellent job developing leaders. Consulting caught up with Deloitte Principal Jason Geller, National Managing Director of Deloitte's Human Capital Practice, to talk about the dire need for leadership development at all levels.
Consulting: What are some of the causes of this dearth of excellent leadership development?
Geller: What we're generally finding is that organizations are struggling to develop and strengthen their leadership pipelines. In looking at our 2014 Business Confidence report, top executives all cited lack of confidence in future leaders. Less than half surveyed believed their direct reports have the skills ready to become members of the C-suite. All the research has found that while organizations all get that leadership is important, they find it difficult to make leadership development a long term strategic initiative and are challenged to address the issue.
Leadership is the top issue in our Trends Report, it showed that an organization's readiness to meet those leadership needs dropped by 15 percent in 2015 from 2014. It's pretty scary—it's one of the most important trends yet at the same time only 6 percent of the companies felt "very ready" to address leadership issues. Ten percent felt "comfortable" with their succession programs, and only 8 felt they had programs designed to address millennial leaders. It's fascinating when you think about leadership being one of the most important issues for the C-suite in both business and HR leaders yet nobody thinks they're ready to address it.
Consulting: What made Kaisen an attractive acquisition target?
Geller: We worked together for a number of years. And as we looked at the organization one of the things that was interesting to us was their research-based framework founded on more than 20,000 in-person leader psychological assessments. Having that core intellectual property of understanding what makes leaders successful in a variety of organizations, sectors, and geographies is fantastic and valuable to us and our clients. It's a relationship we've had for a while, we collaborated together in the marketplace. Having that capability in-house we can be even more tightly integrated and scale it on the Deloitte platform.
Consulting: Is business psychology becoming a more broadly used method to identify future leaders?
Geller: I think there are different views around what makes leaders successful. Some of it is the softer stuff but some of it is very high level. What excited us about Kaisen and our approach to the leadership space is science and data driven. I don't know that everyone thinks about the world that way, we believe data and analytics and a science based approach is a very different way to have these types of conversations with our clients and it seems to resonate with them.
Consulting: If the leaders you're speaking to fail to develop those leaders, what are the potential consequences?
Geller: The ability to execute against a business strategy will become increasingly more challenging because you won't have leaders with the experience, the style, and the behaviors necessary to operate in a particular organization. If an organization is truly a global organization, at a certain point you need to have a global mindset—the right sets of global experiences to effectively operate as a global leader. If you haven't done the work ahead of time to prepare leaders to be able to do that you run into an obvious challenge around succession that doesn't just happen at the CEO level. We would expect organizations would be challenged to achieve their goals. If you think about it more broadly, boards, outside investors, they bet on leadership teams in many cases, not just on the company itself and its product or service portfolio. They look at leaders. That also applies to the talent marketplace. Having great leadership has an impact on your talent and their interest in staying and performing on a high level.
Consulting: Are other firms following suit in offering this kind of service?
Geller: We like to think of ourselves as a market maker, not a market follower. We've been recognized by lots of analysts as being strong and broadly across the human capital and talent space and within leadership. My hope is folks have taken notice of what we're doing. Copying is the greatest form of flattery so I'm sure we'll see others try to make some similar moves in the space, building on where we've been in the marketplace.