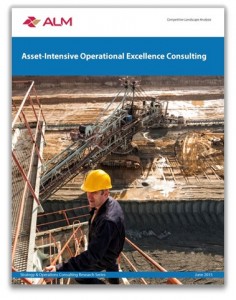 Deloitte recently announced its acquisition of the Canada-based asset reliability engineering firm, Asset Performance Group (APG). APG is one of a number of specialist engineering consultancies that focuses on helping clients in asset-intensive sectors such as oil and gas to deploy reliability and maintenance techniques to improve asset availability, optimize maintenance expense, and minimize safety risks. The end-game for providers like APG is to shift companies away from the traditional run-to-failure operating mode towards a more balanced mix of corrective, preventative, and condition-based maintenance. Underlying this approach is the imperative to bring together the often siloed engineering and maintenance functions to optimize asset performance and reliability over the full lifecycle from design and build through decommissioning.
Market demand for consulting on asset performance and reliability is experiencing a secular uptick in the wake of the global financial crisis, as my colleague, Naima Hoque, and I detail in our recent report, Asset-Intensive Operations Excellence Consulting. Prior to the crisis, companies were more likely to invest in new capital assets to meet new demand and rely on the relatively blunt instruments of corrective and preventative maintenance for existing assets. Post-crisis, however, companies in asset-intensive sectors are increasingly using consultants to get more out of existing assets and avoid new capital expenditures amid declining commodity prices and weak growth. The need is significant. In the U.S. private non-farm business sector, for example, the contribution of capital intensity to productivity growth has been negative or nil since 2010, according to the U.S. Bureau of Labor Statistics. The promulgation in January 2015 of an international standard for asset management, ISO 55000, is further helping to raise awareness of the importance of asset productivity by introducing a management system to a traditionally technical discipline.
But satisfying this demand runs up against a significant challenge inasmuch as reliability engineering on its own still tends to be too technical and narrowly focused in the client organization to yield significant productivity improvements. What is needed to build a program that can drive and sustain gains is an effective blend of these narrower capabilities with the broader sort of lean-inspired operational excellence capabilities and higher level positioning in the client hierarchy offered by traditional general management consultants.
Deloitte's acquisition of APG is one example of this sort of combination. Other management consulting firms have also done well by partnering with reliability engineering firms. Either way, reliability engineers tend to possess strong cultures and distinct business models, and effectively integrating and deploying these capabilities alongside management consulting takes a thoughtful approach.
At any rate, Deloitte may have some time to work out its approach with APG. Falling commodity prices were a boon for asset productivity consulting through mid-2014, particularly in the oil and gas sectors, as companies deferred new capital investments and sought to get more out of existing assets. But as those price declines accelerated over the past year and a half, companies are circling the wagons by cutting all expenditures: maintenance and consulting alike.