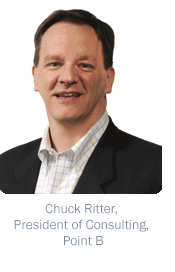 It's been a big couple of years for Point B. The firm is celebrating its 20th anniversary and just last year completed its transition to 100 percent employee ownership. Since then its stock price has risen 69 percent and earnings 111 percent, so it's safe to say firm morale is high, which Chuck Ritter, President of Consulting for Point B, attributes to the quality of its people. As the firm continues its eastward geographic expansion, it recently appointed Chris Marsh, CEO and President of Pulse Health, to its board of directors, and Peter LaSalle as Vice President of Business Development. We sat down with Ritter to discuss the firm's strategic vision.
Consulting: How do the recent appointments enhance Point B's strategic growth strategy?
Ritter: When we think about growing Point B, the thing that comes to mind for me is our approach. Both our vision for consulting and how we'll execute on that strategy. When we think about the industry we think consulting needs a jolt. There's really meaningful ways we can drive value for our clients and to impact their profit equation, if it's revenues, costs or even margins. We really think about growth and diversification as helping our clients get to better outcomes than they've imagined for themselves, and how we do that always matters. Chris Marsh's appointment to our board gives us the perspective of someone who's innovated in the field and who can help us think differently about the way we consult, the way we serve our clients. Peter LaSalle's appointment has been a lot about helping us get to more clients more rapidly. We're continuing a pretty rapid geographic expansion of our VC firm and property development services. Peter's experience at Oracle Peoplesoft gives us that scale to take these ideas and to not sell or grow our company in the same way we might grow any company but to think about Point B holistically and as an opportunity to really take the power of Point B that is our people and apply them in ways for our clients that extends the bounds of traditional consulting. That's the jolt we're excited about.
Consulting: What's your vision for strategic growth going forward?
Ritter: When we think about growth our mindset and roadmap is really around building a future that enables us to deliver extraordinary outcomes, to lead with heart—the things we love to do at Point B. Those imperatives are about that geographic expansion, is there an alliance we might have with another company that would really help us grow as a business that would help another company that's culturally aligned to us grow in a way that we could help them serve their own clients. To think about the ways and the meaningful value we achieve through outcomes that matter most to our clients, whether it's the profit equation or another goal they're trying to achieve. We think about the way that we hire always because we have a process that is seeking out the best and we're really excited about how we're expanding and broadening our view of what would make Point B valuable in the way we hire, developing our people, and leveraging the knowledge we've built over 20 years.
Consulting: Might there be any acquisitions on the horizon?
Ritter: Right now growth by acquisition is not a strategic imperative, but we're open to it so we continue to evaluate. Like most firms we lead companies through mergers and acquisitions, and making them successful has really depended on a strong culture fit. It would be too much to say that we're seeking that, but that's what we look for when those opportunities come to us. Every client is different and every situation around a merger or acquisition is different, especially when you consider what a company is trying to achieve. But we know what we want to achieve and we know the culture that we want to remain intact and our values that we want to uphold.
Consulting: What are some of the big challenges clients are facing?
Ritter: The economy domestically, where most of our work is, is very strong right now. There's a significant war for talent going on, there's a huge desire to expand wallet share and grow revenue. When times get a little tougher there's more focus on the cost side of the equation, but right now there are a lot of revenue generating opportunities. When the economy is really good like this we'll see a shift in spend to updating systems and processes and technologies to get more competitive. Companies are looking for insights, to say we have a strategy we believe in, what's the best way to operationalize that? I think now more than ever our clients are asking to make their strategy into a reality as opposed to 4-5 years ago when the economy dictated we needed to be lean in our spend and think about margins above all else. Today is so much more about growing that top line and having that impact the bottom line and investing in the future. Now's the time to do that.