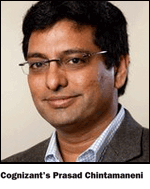 Cognizant's Prasad Chintamaneni discusses the future of Banking and Financial Services
To say Prasad Chintamaneni, President and Global head of the Banking & Financial Services practice at Cognizant, is bullish on the future of the sector would be an understatement. Chintamaneni, who has some 900 consultants at his disposal, sat down recently with Consulting magazine to talk about the market, its overall potential and the digital transformation of the financial services industry.

Consulting: Where does the Banking & Financial Services practice stand right now?
Chintamaneni: At Cognizant, we combine Banking & Financial Services with Insurance. So, BFSI, as we call it, is about 42 percent of our total revenue, with Banking and FS making up most of that. That's significant. It is truly global and we work with many of the marquee clients in the sector, serving most of the Top 10. We do a lot of work in North America, but we also have a significant practice in Europe and increasingly we are doing more and more in Asia Pacific and Latin America. Most of the work is our bread-and-butter technology services business—application development, application management, application maintenance, as well as some of the more horizontal advisory services, as well.
Consulting: How do you see the practice evolving in 2015 and beyond?
Chintamaneni: I won't be able to talk about specific numbers, but I will say that we continue to grow really well, and our goal is to continue to grow faster than our competitors. Cognizant's aspiration is to be the industry leader in this sector. There is tremendous opportunity for next year and beyond. There's huge opportunity in helping clients become more efficient through technology and business process services. Everyone has huge investments in these areas, and we're trying to help them manage their technology to get more bang for their buck. For instance, we are helping banks completely transform their business processes. How do they grow revenue? A lot of the more traditional revenue models for banks are going away, and a lot of the work is leveraging technological capabilities to transform their business models.
Consulting: Is this part of the digital transformation of the sector?
Chintamaneni: Absolutely. For instance, we are using technology to help banks enhance their customer experience. This is a huge challenge for them. Right now, when you call a bank's call center, they have no idea who you are, how long you've been banking with them, or how valuable you are to them. They ask you the basic questions: It's not personalized. Digital is more important now than it's ever been, and we are focused on helping banks redefine the customer experience through multi-channel interactions. Banks need to know who you are and how important you are throughout the entire customer experience, regardless of the channel. We're also using advanced analytics to be predictive, solving customer problems before they are problems—that's a huge cost savings. Just seamlessly being able to share customer information across parts of these large companies is significant. Banks get it. They realize how important this is to get done.