Slalom Consulting

Type of Work: Pro Bono
Client: StolenYouth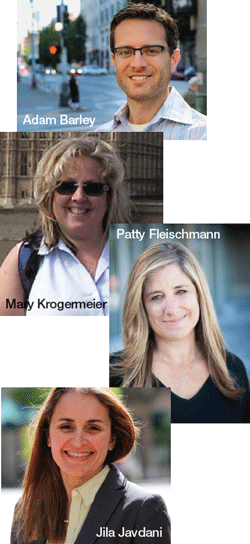 In 2012, Slalom Consulting launched a Philanthropy Fellow program to strengthen its local communities through non-profit partnerships. The program consists of three-month fellowships that enable Slalom to provide consulting services to organizations that may not otherwise have resources for it. It also offers Slalom consultants unique opportunities to invest their time, expertise and passion in organizations about which they are passionate.
"The Fellowship program has been extremely popular since it launched two years ago," says Jila Javdani, Managing Director at Slalom. "It's been a huge success." One organization that has benefitted a great deal from the program is StolenYouth, a Seattle-based non-profit organization which raises funds and awareness for sexually exploited youth in the region.
In its first three years of operation, StolenYouth has raised more than $1.5 million to support the work of four other local organizations: YouthCare, the Center for Children & Youth Justice, Businesses Ending Slavery & Trafficking, and Organization for Prostitution Survivors. Together, they're fighting child trafficking and providing victimized youth with much-needed comprehensive services, says Patty Fleischmann, President and Co-Founder of StolenYouth.
"We are a very new organization, and we were incredibly successful fundraisers but we were really blindly going out there with just passion and grit, but we had to stop and take a breath and really determine where we were going and how we were going to harness all this incredible energy we had," Fleischmann says. "That's when Mary came in. She single-handedly created an infrastructure for us and created those systems for us. She also helped me hire an assistant, which was a huge help. Slalom's been such a gift for this organization."
"Mary" is Mary Krogermeier, a Consultant at Slalom who led the three-month engagement with StolenYouth, more than 500 hours and $75,000 in consulting services.
"I can tell you they are an infectious group. You simply can't help getting pulled in by their passion. I love all my clients, but there was something different with StolenYouth," Krogermeier says. "This experience has had a much bigger impact on me personally, more than I ever anticipated."
And at the end of the three-month engagement, Krogermeier basically refused to go. "I am volunteering my time because three months was too short of a time to do everything we wanted to do," she says. "So we continue to talk about their strategy, their marketing and the content management system that we recommended for them, so there's work to do and I plan on being a good resource for them in the future. They are a passionate organization and you just can't help get caught up in that passion."
Adam Barley, Corporate Responsibility Lead for Slalom Consulting, says that's because Slalom employees want to make an impact in their communities, especially for such an important cause. "The fact that this was happening right in our backyard was eye opening and that's one of the reasons why I wanted to work with StolenYouth," he says. "I knew this was going to be a great way to really make an impact to an organization that's so important."