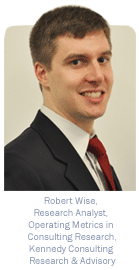 Consulting firm compensation is a hot button issue these days. While the industry overall enjoys solid growth, compensation at consultancies has actually remained somewhat flat. This has resulted in more consultants staying put at their firms, and lowering industry-wide attrition. Is that necessarily a good thing? Robert Wise heads Operating Metrics research for Kennedy Consulting Research & Advisory. He talks with Consulting about why more money might not be the best answer.

Consulting: How have industry compensation trends evolved over the past few years?
Wise: Industry compensation trends are always evolving. While firms have dealt with and adjusted to the new buzzwords of today "economic downturn", "economic recovery", and "the new normal" the one constant is people always would like to paid more. That being said, we have seen compensation packages morph more into something like a diversified investment portfolio. Firms and their employees are not putting all their weight behind a salary, but choose to take trade-offs that include more flexible/comprehensive benefits package, less travel, office perks such as telecommuting, training, etc.
Our latest compensation metrics report, Compensation Metrics in US Consulting 2014 , details how the market is recovering from recent economic turmoil. We are seeing firms become optimistic again. Which is reflected in a timid .04 percentage point growth to mean base salaries for the overall consulting market in 2014. In the mature markets of North America and Europe we have seen a muted growth as the recovery continues and the market crowds with a growing need for talent. In developing markets Asia and India there are still some steep increases as those geographies experience high growth.
Consulting: Are firms approaching compensation differently, in terms of philosophy or tactics?
Wise: Yes and no. There are copious amounts of consulting firms around the world and no two firms share the exact same philosophy. The general approach to compensation has not changed too greatly, the goal in its simplest form is to still offer the best and brightest the best and brightest. However, employee engagement as a metric and philosophy is more prevalent. Cash is still king but the culture of the company—its personality if you will—and how that relates to the employees' own personality and beliefs are starting to bleed into compensation conversations.
Industry specific compensation is becoming more of a trend with mid-sized firms as they are competing for top talent against the larger firms. This is where "hiring power" gets placed in the hands of the employees. A sought-after IT specialist for example no longer has to work for the largest firms to seek the compensation, benefits, and interesting/challenging work they desire. There are a myriad number of firms for that individual in this example to choose from so they can (theoretically) be working in an environment right for them.
Although this approach to compensation may be changing, we have seen a slow decline in those eye-popping bonuses. It is a slow change and the general philosophy surrounding consultant compensation has largely gone unchanged, make the top talent an offer they cannot refuse.
Consulting : Which service areas are experiencing the most growth in compensation levels?
Wise: As our world becomes more dependent on technology by the second it may not be surprising that Information Technology consulting experienced the highest mean base salary growth in 2014. Strategy & Operations is also up there, as the flagship of management consulting the S&O space is a reliable area for investment and ongoing business. Both service areas, however, do not report continued growth looking forward to 2015 where we find the growth levels to plateau in response to firms' lack of trust in the economy.
Consulting: Are there other areas beyond compensation where firms are making investments?
Wise: In terms of compensation, firms have widened the lens as to what that term can entail, expanding their offerings in benefits, PTO, paid training, and personalized rewards. Some firms expressed added investment into shaping their consultants personal brands, offering them incentives to attend networking/industry specific events, even cash incentives for publishing white papers and thought leadership. The biggest concern for compensation and HR managers, however, is recruiting top-talent specifically rainmakers that is who firms are looking for revenue generators and they are willing to ante up to get them.
Kennedy Consulting Research & Advisory's latest report—Compensation Metrics in US Consulting 2014—is available now. For additional details or to purchase the report, please visit www.kennedyinfo.com/consulting/research/operatingmetrics/comp-2014.