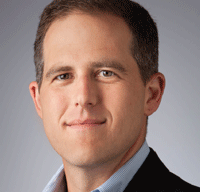 Jeff Gold
Managing Principal
ZS Associates
Excellence in Client Service
Jeff Gold is a Managing Principal in ZS Associates' San Mateo, Calif., office and is the leader of the firm's global Business Intelligence practice.
Over the past 15 years, he has helped nearly 100 companies across a range of industries increase their sales and marketing effectiveness through business intelligence, data management, analytics, go-to-market strategy, incentive compensation design and administration, and sales and marketing operations excellence.
At ZS, he has led many of the firm's largest client engagements and built global delivery teams to address new and complex client demands. He is a frequent speaker and author, including as a contributor to ZS's upcoming book, The Power of Sales Analytics.
Gold says he is most proud of the 50 percent annual growth in the firm's global Business Intelligence business unit driven by strong leadership, a deep focus on client issues, a global team of experts, and best-in-class technology innovations like ARTiS Cloud.
Recently, he says, he has focused on two key clients to build strong centralized service teams with deep client focus and sales, marketing, and technology expertise.
"In both cases, these clients have seen improved service levels and quality of commercial deliverables, enabling them to make better strategic and tactical decisions," Gold says. "I enjoy seeing the real impact that our work has on our clients in terms of increasing efficiency and effectiveness of their commercial organizations through strategy, operations and analytics."
Gold says the firm approaches clients' complex sales and marketing issues—from strategy to capability building and operations—with deep expertise and a global perspective. "By collaborating and providing the right services, I see our work impacting not only our clients, but also ZS's growth," he says.
In addition, Gold says he enjoys mentoring extremely bright, motivated and success-driven people at both client organizations and internally at ZS. "I am very proud, through project engagements and practice leadership, of the impact I have in developing future consulting leaders at ZS," he says. "It is extremely rewarding and gives me tremendous personal satisfaction."
Gold says he's honored that he received the Top 25 award nomination from a few of his clients.
"I have always been proud of our culture, our people and our values, and I am excited to share this award with all of my colleagues who collaborate with me on a daily basis," Gold says. "I hope this recognition will further motivate my colleagues and encourage my clients to entrust us with opportunities to work with them to solve even more complex issues in the future."
What's the biggest factor to your success?
"The biggest factor to my success is my ability to partner with my clients and other ZSers. I love to collaborate with my clients to achieve our common goals of improving sales and marketing effectiveness and integration. Collaborating with ZSers at all levels around the world enables me to bring the best possible solutions to my clients. In many cases, I am still working with the same ZS people I did more than 10 years ago, and I love watching them continue to grow their skills and expertise. This creates a positive feedback loop where others around me are a constant source of ideas, focus and passion."