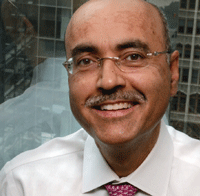 Dr. Imran Shah
Co-Founder and Managing Partner
IBB Consulting Group
Excellence in media & Communications
Ask Dr. Imran Shah about his accomplishments, or his firm's accomplishments, and he'll instead tell you first about his clients' accomplishments. At least as they relate to IBB Consulting Group, the firm he co-founded that serves cable, media, wireless and technology companies, globally.
He'll talk about helping one of the top cable operators license its entertainment platform to other industry players that are now more nimble and able to accelerate innovation as a result. He'll also discuss how IBB is helping bring advantages of the anytime, anywhere entertainment experience to the masses by helping clients in every stage of the value chain design, develop and deliver cloud-based DVR and TV Everywhere offerings.
And he'll talk about how the firm is playing a major role in shaping and maturing the smartphone industry, and helping clients drive innovation as they work to develop the next hit wearable form factor in an Internet of Everything ecosystem.
"I'm proudest that IBB has been able to maintain its preeminent position in cable while significantly growing our mobile and media practices," Shah says. "This often means taking on projects that are of major significance to our clients and that make international headlines. IBB just recently reached the significant milestone of driving end-to-end efforts for more than $120 billion of industry M&A activity in total since founding."
Shah is Co-Founder and Managing Partner of IBB Consulting Group, where he guides IBB's strategy and vision, supporting major client relationships and key engagements. Shah has led some of the most significant projects within the broadband industry.
"IBB has guided our clients as they've moved from single-play product lines to a comprehensive service offering, which we continue to help grow," he say. "We've also supported the evolution from relatively simple products to more complex offerings that require significant enterprise level effort but result in hugely popular experiences for consumers. Through it all, a constant trend has been that we continue to take on projects of transformational significance, projects that are typically assigned to firms much bigger than ours."
But Shah is quick to point out that while culturally, IBB remains a small firm, it's not when it comes to world-class client delivery. "IBB hires only the top-performing consultants," he says. "Our consultants work directly with executive client teams that produce market impacts, mainstream headlines, and the most popular consumer products and services."
What does winning the Top 25 Award mean to you?
"When we started IBB 11 years ago, we wanted to be the best in our industry. I remember how thrilling it was when Consulting Magazine wrote a piece on us where they referred to IBB as the "unique boutique." That was a big validation for us and being named to subsequent "Best Firms" lists by the magazine was always a source of pride for us. Above all, being named a Top 25 consultant overall and specifically in media and telecom is especially gratifying given that the convergence between Media, Broadband and Mobile has been our focus since founding. It is recognition of how far IBB has come since we set the initial course for this firm all those years ago. As I said earlier, I am an embodiment of this firm and I share this recognition with all of IBB and our clients who continue to put their faith in our ability to help them succeed."