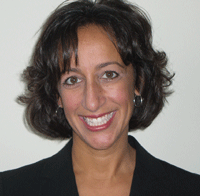 Christina Bieniek

Principal
Deloitte Consulting
Excellence in Retail
It's crystal clear Christina Bieniek loves her job. Just how much does she love it? Let's count the ways.
"I love retail. I am a retail junkie; I love everything about it. I can't help but evaluate a store when I am in it; even fixing messy displays. And I definitely believe in a little 'retail therapy' to brighten the day," she says. "I love working with my clients. I live it with them. Whatever we are trying to solve, I am all in; I love the challenge of retail, the intensity of solving the problem and working through the organized chaos; and, I love people development. I make time for the people that I work with and genuinely care about them and their success."
And Bieniek says she never forgets to live by this motto: "We spend too many of our waking hours at work and with the people we work with, so you better love what you do, or go do something else," she says. "I feel fortunate that I love what I do."
Bieniek is a Principal at Deloitte Consulting, responsible for the Merchandising, Planning and Supply Chain areas with some 20 years of extensive experience in retail strategy definition, business transformation, and the end-to-end retail supply chain, and she specializes in shaping and executing Omnichannel strategies.
Her clients, which include Carter's, J.Crew, Kohl's and Saks, achieve meaningful and sustainable impact through top-line growth, improved margins, and overall operational efficiencies.
She's highly motivated by the continually changing landscape of retail. "This creates an environment that requires constant learning and the ability to adjust," Bieniek says. "Especially, as you embark on a new project or new problem. I love the feeling of 'drinking from the fire hose' as you are taking it all in, synthesizing and understanding."
And it doesn't look like the firehouse flow will slow down anytime soon for Bieniek.
This year she led the team to support a client through a major phase of their Omnichannel roadmap. "We were a key part of making it happen, it is highly rewarding to know that we played a critical role and share in that success," she says.
And a few months ago, she also assumed the responsibilities of Inclusion lead for the C&IP practice within Deloitte Consulting LLP. "I am honored to be sitting on the leadership team, helping to shape, promote and influence diversity and inclusion within the firm."
As far as the award, Bieniek says "it is a great honor to be recognized with such a top group of my peers. I pride myself on making a difference every day at both my firm and with my clients. Winning this award is a statement about the people I work with and the great clients that I have had the privilege of serving, as this would not have happened without them."

What's the biggest factor to your success?
"The people—both the teams I work with and the clients that I serve. The satisfaction I get from my clients achieving their desired results and knowing that what we did helped to make that happen is the best. I love knowing that the leadership we demonstrated gave our clients the confidence to take decisive action and achieve sustainable impact. In the consulting business, it is really all about people—people are our assets. At Deloitte, I am surrounded by really smart people, who share a common goal of making a difference in all that we do."