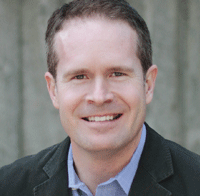 Ben Burke

Retail and Consumer Product Practice Director
Point B
Excellence in Retail
Point B's Ben Burke likes to get into the mind of shoppers and says he really enjoys the psychology of consumers. "I love understanding what impacts a shopper's decision making and how new, digital channels will make discovery and procurement of product more efficient," he says. "I love connecting people with each other, creating community around shared interests and facilitating the flow of ideas."
Discovering just what makes a consumer tick is part of the way Burke's able to provide outstanding service—and now award winning service—to his clients over his entire career. It's a career that's spanned more than 15 years. In addition to his time at Point B, Burke also has worked at Deloitte & Touche and Ernst & Young.
Today, Burke is the Point B's Retail and Consumer Product Practice Director and also leads the Digital Service Line at the firm where he guides a team of retail, consumer and digital experts toward a much deeper and thorough understanding of the shifting behaviors of consumers.
"At work, I am most proud of forming and growing the Retail practice at Point B," he says. "We are more in tune with industry trends/challenges and applying our knowledge at clients than ever before."
Burke says he has a keen focus on the digital areas that matter most to clients right now. Those areas include consumer loyalty and engagement, IT system strategy and implementation, omni-channel strategy and organizational design, Burke says.
With both colleagues and clients, Burke is well known for bringing retailers, product companies and consultants together to collaborate. He views himself as "a connector and an enabler for others to do good work," he says. "I want to get to know and build a relationship with everyone I meet, and figure out how I can help them."
Burke says the only way he knows how to operate is with a positive, "can do" attitude, taking a humble, selfless approach to everything and putting others first.
"Consulting is about trust. I build trust by being genuine, reliable, knowledgeable and vulnerable," he says. "I am curious and driven by figuring out a better, more efficient way of getting something done."
Burke also says he is motivated by having fun and enjoying life to the fullest. He says he's most proud of "all the little things that go into being a good dad and husband: being home for dinner, minimizing my work travel, coaching my daughter's soccer team, and making it to almost every swim meet, T-ball game and dance recital," he says.
At Point B, "I work to live, not live to work."
What does winning the Top 25 Award mean to you, your firm and your clients?
"The award means the most for my mom, she is also a consultant and might actually tape this article to her refrigerator, just like my school report cards. It's also a great honor for Point B, the Retail practice, and our clients."