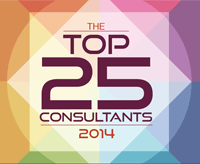 After one of the harshest winters in recent memory, our annual rite of spring has finally arrived: The Top 25 Consultants are here. And, once again, we've done our very best to capture the true essence of their extraordinary client work.
Unfortunately, too many of the good and heroic deeds we read about as part of the nominations can not be shared publicly. That's a shame. Because they truly are good and heroic deeds. Too bad only a handful of us at Consulting magazine and people inside the firms know about them.
Well, the clients, for sure, are well aware of each and every one of them and that's the point, after all. Otherwise, we'd all be out of a job.
While we wish we could share many of the specific details we read about in the nominations—many of which, by the way, come directly from the clients themselves—we simply can't. What we can do, however, is do
our very best to tell the stories of the winners of this year's Top 25 Consultants—with this special 36-page section.
This year, some 400 nominations rolled in, recognizing consultants from the largest enterprise firms right down to some at the smallest niche firms. Each one, it seemed, was more impressive than the one before it.
Refreshingly, gone was the talk of cost cutting, restructuring and doing more with less. It was nice to read nominations that didn't emphasize bringing clients back from the brink of disaster. That's a welcome change; let's hope that trend sticks.
All 25 winners have one thing in common—they let nothing stop them from delivering the absolute best client service possible. Once you finish reading this section, I promise you'll be inspired to go that extra mile for your clients. They sure were.
Carol Beaumier, Protiviti
Brian Becker, McGladrey
Christina Bieniek, Deloitte
Julie Booth, Accenture
Beth Bovis, A.T. Kearney
Ben Burke, Point B
M. Tamra Chandler, PeopleFirm
Kevin Christ, Alvarez & Marsal
Bill Frack, L.E.K. Consulting
Jeff Gold, ZS Associates
Mike Halloran, Mercer
Jeff Lee, Cumberland Consulting
Hugh MacArthur, Bain & Company
Gordon Mountford, Huron Healthcare
Ram Nagarajan, PwC
Mike Nolan, KPMG
Paul Papas, IBM
Alex Qatsha, Slalom Consulting
Tom Reichert, BCG
Brian Sanderson, Crowe Horwath
Gregg Schoppman, FMI Consulting
Dr. Imran Shah, IBB Consulting
Andrew M. Smith, Impact Advisors
Jeffrey Stier, EY
Marcia Wakemen, Capco