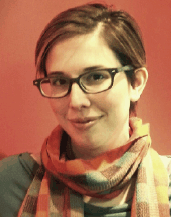 SARAH GRIFFIS
LYONS CONSULTING
TITLE: eCommerce Analyst
AWARD CATEGORY: Retail Industry
AGE: 25
At the age of 25, Sarah Griffis has already had an impressive career. She is a senior eCommerce Analyst at Lyons Consulting Group, managing the eMarketing and eMerchandising efforts for the agency's clients encompassing luxury items, consumer products and fashion accessories.
Graduating high school at 16, and dabbling in such pursuits as screen-printing and learning Japanese for fun, Griffis is highly intelligent and has a broad range of interests both in and out of the office.
She's clearly on to something. Clients Griffis has worked with have seen double-digit growth in their Key Performance Indicator goals. But she says the key factor to that success has been communication.
"As a consultant, having a strong relationship with my clients encourages open dialogue and ultimately leads to improved collaboration and more opportunity for growth. I can honestly say that the double or triple digit growth I have seen with a few clients was only possible because of the investment of building a relationship based on honest feedback," she says.
Her unique perspective in marketing, branding and merchandising helps her see the big picture. That moment when everything comes into focus she describes as the most satisfying part of the career.
"That 'eureka' moment when all the data, testing, and analysis fall into place, and you suddenly realize how these thousands of separate factors dynamically work together. To me, this is the moment when I realize just how much is possible—how much impact I can have as a consultant."
Griffis says the award is a tremendous honor, "means so much" and is wholly owed to those with whom she's worked.