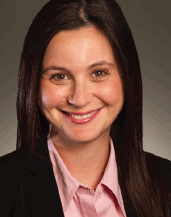 MARIA STEINGOLTZ
L.E.K. CONSULTING

TITLE: Senior Engagement Manager
AWARD CATEGORY: Retail
AGE: 32
Even though she's only 32 year old, Maria Steingoltz could be considered an industry veteran. She's certainly an L.E.K. Consulting veteran, having two stints with the firm first in 2003 and then returning after her MBA in 2007.
In her current role, she led an eight-member team to develop strategy and support the integration efforts of an international baked goods company.
"I'm proud of my successful cases, particularly in the food & beverage sector, or any of the other clients who are relying on the strategy I helped developed to propel them towards success and growth," she says. "I'm excited to be able to help our clients solve some of their toughest problems, and the relationships I have that underpin my ability to do that."
She also mentors four junior consultants as a career development coach and is a Chicago leader within the L.E.K. Women's Network. She is also a key to the firm's recruiting efforts.
"I'm also incredibly proud of the mentorship aspect of progressing at L.E.K.—that I am now a sounding board to our associates and consultants is extremely fulfilling," Steingoltz says.
That aspect of her career has come full circle, as she credits the mentors she's had along the way as key to her success.
"The incredible mentors I've been lucky to have at L.E.K., starting from when I was an associate and learning from the consultants I worked with all the way to now and the partner group," Steingoltz says.
"I'm just incredibly honored [to be named a Rising Star of the Profession] not only for myself, but for the entire firm." 