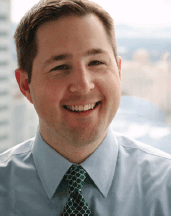 GARRETT KEPHART
POINT B
TITLE: Senior Associate
AWARD CATEGORY: Energy
AGE: 32
When he was just 14, Garrett Kephart's parents sent him to Keewaydin Canoe Camp in Northwestern Ontario for seven weeks. He spent the next 14 summers as a camper and guide in the Canadian wilderness.
These experiences, Kephart says, shaped his appreciation for the natural world and provided an opportunity to develop leadership skills. It also tested his intuition in survival situations. He still takes the canoe trip each year. When he's indoors, Kephart is focused on effecting change on both the management consulting and venture advisory sides of the house.
In addition to his account leadership role with Point B's largest social sector clients, he also launched the Energy, Resources and Sustainability Community Practice for the firm. As if that wasn't enough, Kephart also guided Point B's first-ever Sustainability Report and Action Plan.
"The impact and cadence of disruptive social, environmental, financial, and technological change is increasingly difficult to predict," he says. "This unlocks exciting opportunities for consultants, especially in areas such as energy, resources, sustainability, and global health."
In addition, Kephart has won awards from the U.S. Department of Energy for financial management excellence during the American Recovery and Reinvestment Act of 2009. "I am most proud of my work in support for the U.S. Department of Energy's economic stimulus program.
All of that, he says, pales in comparison to what he considers his greatest achievement, his one-year-old son, Sawyer. "As a consultant, it's difficult to explain what I do. I'm hopeful this award will make my profession more tangible to him… once he's able to talk."