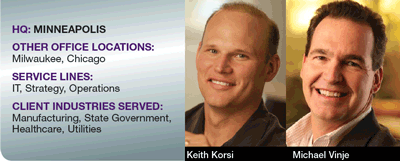 Trissential has grown from a two-person company launched in 2003 to a 140-person consulting firm that's created and established a unique market position—the sweet spot between the Big 4 and enterprise firms and the pure staffing firms.
The two people, principals and co-founders Keith Korsi and Michael Vinje, say the idea behind the company was to do consulting better. "That was the founding premise," Korsi says. "You have the IBMs and the Deloittes at one end and then you have staff augmentations firms at the other, and we thought there was a sweet spot in the middle."
Turns out there was, and Trissential settled right in. "We became a cost effective alternative to the big boys, and we brought more value then the staff augmentation shops," says Vinje. "We became a no brainer—the only firm clients would need to work with."
Many of those clients are listed on Trissential's Web site and include Lands' End, Xcel Energy, Oshkosh, MoneyGram, Land O'Lakes, General Mills, US Foods, WellPoint and the State of Minnesota.
With a roster of clients like these, and a unique market approach, it didn't take long for Trissential to begin chalking up 25 to 30 percent growth the last several years.
Korsi and Vinje have mapped out what they call their 2020 vision to be a $100 million firm over the next six years. "That's very realistic and right now there's momentum like we've never had," says Vinje. "It'll take more locations, more capabilities and more verticals to get there."
To that end, he says healthcare is a huge opportunity, as is public sector and manufacturing. Also, Trissential is looking at additional markets in both Atlanta and a still-to-be-determined location in Texas.
Korsi and Vinje came from a firm that was small and grew to about $25 million and hit the wall. It struggled through its maturation.
"We wanted to try to create a firm that would bust through that threshold and frankly, we started running into some of the same problems," Vinje says. "We invested more in our internal systems and processes, our operations, our recruiting, our HR capabilities." In fact, some of the same things that we've been helping clients with are some of the same things we've had to do ourselves."
Korsi says part of that plan of scaling for growth was a keen eye on creating the kind of culture for its essentialists—what Trissential calls its consultants—to succeed. "We really wanted to put the essentialists first so that's been part of our mantra from early on," Korsi says. "We've all seen too many consulting firms get that wrong. We were going to take care of our essentialists first."
Vinje says the firm's model has allowed the firm to attract and retain top talent. "People like working here. Most of our hires are through referrals. Look at our numbers and look at our retention rates," he says.
In every market, Korsi says he has been able to attract very senior level consultants who are looking for something different. "We believe those folks will continue to be attracted to us in other cities," he says. "It's a simple mantra we live by: 'Take care of the client, take care of the essentialists and the company runs itself.' "