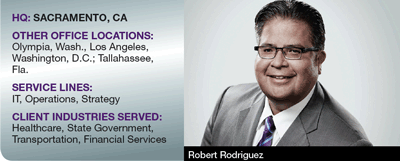 Cambria Solutions was started 10 years ago with a pair of Ikea desks and a goal to build something special, says CEO and Founder Robert Rodriguez. The first things he built, he jokes, were those two desks, but little did he know a decade later he'd be celebrating Cambria's 10th Anniversary with a company-wide event in Lake Tahoe.
One of the reasons for the celebration—Cambria was coming off a year in which it grew 60 percent. This allowed the firm to double in size in terms of staff, offices and revenue in just the last two years. "There's no doubt about it, this is explosive growth for us," Rodriguez says.
A big reason is due to a decision Rodriguez and his team made a few years ago to pivot the firm into the healthcare space. "That decision has really paid dividends for us," he says. It's what has allowed us to grow as we have the last few years."
But it wasn't always easy sledding. Rodriguez says Cambria bid on, and lost, 18 consecutive projects. "That was painful," he says. "But then we won our first one, which happened to coincide with the passage of the Affordable Care Act, and we were off to the races."
Before healthcare, the firm focused much of its energy on the transportation space, but the plan was always to diversify. "Early on, we identified healthcare as an opportunity, and this was before ACA," he says. "We identified the intersection of public service and healthcare and found an opportunity and—finally—landed a large client in that space."
In 2014, healthcare will account for about 70 percent of all of Cambria's business. A lot of the healthcare growth, Rodriguez says, "is the culmination of a lot of really, really hard work over the last few years and then landing, what we would call a few whales, very large clients in states implementing state-based exchanges as part of the ACA."
Rodriguez began his career at a start-up and then moved to Deloitte. The differences between the firms were obvious, however, what the two firms had in common was their attention to detail in hiring really great people, he says. To that end, Rodriguez is very diligent about hiring.
"We bring a certain humanity to the table—we're collaborative, we're good listeners, we believe in teamwork," Rodriguez says. "And we bring ingenuity to the process, which means clever, creative solutions to very customized projects. We call the combination "HumanGenuity," and it's become a mantra for the firm.
This year, Cambria is forecasting about 30 percent growth, a rate Rodriguez is confident the firm will be able to keep up. At that pace, Cambria will double again over the next three years.
Assuming that happens, the accolades will undoubtedly continue to pour in for Cambria, which has been recognized as one of Inc. Magazine's 5,000 fastest growing private companies in America for five years running. And now, they can add Seven Small Jewels, as well.
"The recognition is nice because it builds confidence that we're on the right path as a firm," he says. "It adds credibility to what we do with our clients. Clients don't have to take just our word for it, they can take a look at what others are saying about us and the work that we do."