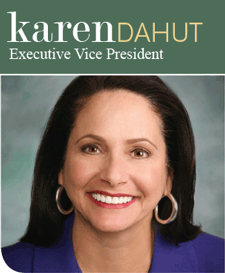 Karen Dahut
Executive Vice President
Booz Allen Hamilton
Q: Can you sum up where Booz Allen Hamilton is today?
A: As 2014 starts, Booz Allen will be celebrating our 100th anniversary year, and that alone says a great deal about our firm. In a century, we have faced dramatically different circumstances and challenges, and we have achieved this milestone due to our focus on providing the highest quality service to clients as we help them solve their toughest problems; hiring and developing the best people; and working at the highest standards of ethics and core values. While our government client base faced intensified funding challenges in 2013—including sequestration and a government shutdown—Booz Allen delivered strong financial performance because the work we do is essential to our clients' missions.
As an example, during the October government shutdown, about 90 percent of our government client work continued, and our strong financial position allowed us to assign those impacted employees to other tasks, avoiding any stafffurloughs as a result of the shutdown. In our most recent financial quarter, ending Sept. 30, 2013, revenue was stable, while we grew our margins, operating income, net income and earnings. The difficult and uncertain market in 2013 was one that we'd seen coming and had planned for. We set aside resources and managed our spending, knowing that there could be government funding challenges of some kind in the fall, and when the government did shut down in October, we were prepared and were able to support our staff strongly.
Q: How would you describe your firm's outlook for 2014?
A: We are confident in the strength and quality of our business, and our ability to manage well in what will be continuing times of uncertainty in the government services sector in 2014. We will continue to evaluate potential acquisitions that align with our growth objectives and are a strong cultural fit.
Our commercial business is growing, and we hope to see continued progress, particularly in our core verticals of financial services, energy and health. In the area of innovation, big challenges call for big solutions, and Booz Allen's wide range of innovative, powerful and reconfigurable capabilities meet this challenge by being assembled into integrated solution platforms specifically designed to address large scale complex client issues. We have brought together 150 leaders and 1,500 staff from across our firm to focus on these big problems in a way that's never been done before.