By David A. Fields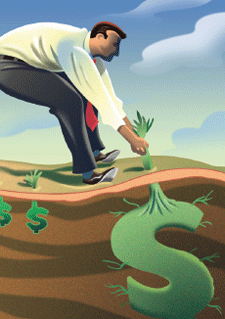 You could easily drown in the sea of articles and books about making rain. Countless web sites and training firms are dedicated to upgrading consultants' business development skills. This article isn't about landing new clients and it's not even about winning follow-on projects with your current clients. No, while many resources reveal the secrets to selling more projects, I'll show you how to make each and every project you win bigger.
The VP of Marketing and Sales for a Kansas-based medical devices firm calls me to ask for a bid on a training program for his small sales force. "I'm talking to a number of other vendors and I want to keep this under $25,000," he explains. Three weeks later he agrees to a $95,000 program. Why? Because I escaped the Urchin Trap and leveraged all three determinants of "drop size" to turn average pieces of new business into exceptional profits.

THE STREET URCHIN TRAP
What is the most consistent barrier to increasing the total size of your projects? When I give presentations on this topic I ask consultants to answer the following two questions: 1) Thinking of the proposals you submit, what percentage of the time do you offer a price that you think the client will think is very high? 2) Still thinking of the proposals you submit, what percentage of the time do you offer a price that you think is very high?
Most consultants suggest their projects are not larger because their services are becoming commoditized. Or they point the finger at their clients' low budgets, unrealistic expectations and lack of urgency. In fact, none of these issues is particularly problematic or should stand in your way. The first challenge you need to address has nothing to do with your clients or competition and everything to do with how you answered the two questions above.
Across all firms that have submitted their answers, the average hovers around 65 percent and 15 percent, respectively for the two questions. Were your answers close to that? If so, you've spotted your toughest challenge, because both of your responses should be 100 percent. The biggest obstacle you must overcome to increase the total size of your projects is the failure to ask for more. I call it the Urchin Trap because, as in the musical Oliver!, all the other street rats were afraid to ask for more. (Yes, Oliver's audacity earns him a quick boot out the door, but ignore that part. It works out in the end.)
• I'm willing to bet you would increase the size of your average project at least 20 percent simply by believing more in your own value and asking for larger projects. The questions below, taken in order, have helped every consulting firm I've worked with increase their project size:
• In general terms, what makes your firm or your projects worth twice the fees you are getting now? (Note, that I did not ask what it would take for clients to say yes. For the moment focus on your value.)
• In very detailed terms, describe what would make your firm and your projects more valuable.
• Is it possible you are already worth more? Looking at your answers to the first two questions then looking at your own practice, what evidence or examples indicate your firm is at least part of the way there?
What specific steps can you take to close the gap between what you are worth now and what would make you twice as valuable to clients?
PROJECT SIZE AND THE IRONY OF EXPERTISE
One technique that consistently unlocks the door to larger projects, remains particularly challenging for consultants: exceptional listening. The truth is, we often don't ask for a bigger project because we don't listen well enough to know that a larger scope is available. The client asks, "Can you help us reduce our warehousing costs?" and you answer, "Yes!"
Aren't you smart! Not really. You are falling victim to what I call the Irony of Expertise. By tapping your know-how to answer a prospect's question you immediately put a box around potential scope. The client defines the rough boundaries of the project by asking about warehousing costs and you cement those limits by explaining, in broad terms, how you would achieve her stated goal. Thanks to the Irony of Expertise, you miss a larger project that extends from raw material procurement through manufacturing to final product shipment. Perhaps you'll get the larger project as a follow-on project, and you may be right. I'd rather get it now.
Overcoming the Irony of Expertise requires diligent application of three little words that are anathema to experts: "I don't know." Fortunately, once we utter them the follow-up is easy: "Tell me more."
COMMANDING A PREMIUM FEE—BEYOND THE OBVIOUS
Another factor in the Drop Size Formula is the fee premium; the incremental dollars a client will pay to engage you rather than some other consultant. The CFO of a mid-size consumer products manufacturer wanted to install a new ERP system and, after a search, he chose Ernst & Young for the project, even though their bid of $1.4 million was almost double some of the competitive bids. Why? If the scope of a project determines the rough fee range, why are some consultants at the top of that range?
The obvious answer is credibility. A well-established, brand-name firm has more credibility than an unknown startup and, therefore, can command higher fees for the same work. Experience with the client's problem and industry, thought leadership in the form of articles, books and speeches, and breakthrough approaches all inform the client's assessment of your credibility.
Building credibility is the obvious answer to commanding more moola for the same project, but it's a long term proposition. Let's move beyond the obvious to a few techniques that can help you increase your fee premium immediately. When the Division Manager for an energy management firm asked whether my group could help him develop a strategy for consolidating their commercial markets, a "reasonable" fee for the labor involved would have been around $120,000.
The fee he initially agreed to pay was $195,000 and the fee he eventually paid was $285,000; importantly, the client was happy with the final bill and the amount of work involved never changed. This massive increase in fees was all incremental margin; it required no additional credibility or man hours. The first technique I used was moving my fee model to a more profitable position on the "Premium Curve," which is driven by two dimensions of project pricing:
Basis— The basis on which you determine fees. This is an internally-focused dimension that has nothing to do with whether you quote a fixed fee or tell the client your day rates.
Timing— The timing of the final fee. In some cases the client knows the final fee before the project commences; that's a fixed fee. Whereas, if the client's final bill is determined after the project is completed, that's a variable fee.
The premium curve advances around the grid from Variable Time and Materials to Variable Value Based, with the optimal contract combining fixed and variable components determined on a value basis.
The project for the energy management firm would have been around $120,000 using a fixed-fee time & materials contract. Based on the time the consulting team actually needed to complete the engagement, a variable time & materials approach would have yielded closer to $95,000.
However, since I referenced the client's benefit as the basis for fees, they agreed that $195,000 was a very fair, fixed price for the contract. Ultimately, I introduced a variable component based on the outcome (not the amount of work) that raised the final tally to $285,000. The client's ROI on the total bill was outstanding and he was a happy camper.
David A. Fields, Founder and Managing Director of the Ascendant Consortium, will highlight several key fundamental ways to increase revenues in his presentation: "Same Rain, Bigger Drops: Breakthroughs to Winning Better Projects" at the Consulting Summit in New York on Oct 24. For information about the Consulting Summit visit www.consultingsummit.com.