By Eric Krell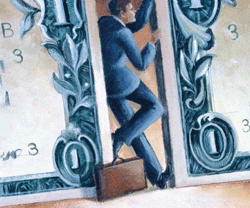 Declining budgets and a demand for increasing efficiency rule the day. And doing more with less has never been so important. But public sector consultants, so far at least, haven't seen the 'sequester shoe drop' like some had feared.
The federal budgeting dysfunction and sequestration have had a swift "but" effect on the public sector agencies that buy consulting services: "We'd send out an RFP, but we're going to wait and see what happens with sequestration;" "We'd like to continue the project, but we're going to de-scope or terminate;" "We're going to pull the trigger, but we just don't know when."
While sequestration has certainly sparked delays, indecision and pricing pressure, public sector consulting firms and practices that are prospering despite budget battles couch their services in much more of an "and" dynamic; they say their clients remain hungry for help in:
Lowering costs and increasing efficiency;
Lowering costs and adding value;
Consolidating operations and improving customer service;
Taming legacy information technology (IT) systems and harvesting greater value from data via advanced data analytics; and
Driving regulatory compliance and optimizing systems and operations.
"In the public sector we are seeing declining budgets and a demand for increased efficiency, period," reports Elaine Beeman, Managing Director, Management and Consulting, Accenture Federal Services. The top challenges that public sector clients face double as the most sought-after type of consulting services: "Doing more with less has never been more important," asserts Bob Willen, Partner and Global Leader for A.T. Kearney's public sector aerospace and defense practice. Other services in high demand include cyber-security, IT optimization, data analytics, fraud detection, supply chain optimization, healthcare IT, talent management and consolidation.
To be sure "doing more with less" represents a clear-cut priority among federal clients. Although this need is not new, sequestration along with rising citizen/stakeholder expectations have injected a whopping dose of tension into these efforts. Teresa Bozzelli, vice president and managing director of Sapient's government services practice, notes that many clients want help achieving mission clarity—i.e., fulfilling their underlying objectives—amid consolidation, an activity in which the relevance of their missions is rigorously scrutinized.
Despite the vexingly uncertain nature of sequestration, the U.S. federal public sector market remains massive—north of $1 trillion and more than the state, local and education markets combined. Although it appears safe to say that the public sector consulting market will decline in the coming months, even years, there remains ample work for consulting minds that can transform two disparate objectives into an elegant solution.
The public sector market "is not growing at its previous rate of growth," observes Robin Lineberger, CEO, Federal Government Services for Deloitte LLP. "But it's still big."
'A Bit of a Pause'
Public sector consultants are hearing a lot less about IDIQ these days and a lot more about protests. Indefinite delivery, indefinite quantity (IDIQ) refers to a procurement practice of government agencies in which clients request extensive services to support multiple needs without a specific end date. IDIQ represented a consulting-procurement mindset that flourished prior to sequestration. Today, firms are less likely to see RFPs for relatively open-ended engagements.
And firms are much more likely to have to contend with protests—the formal process through which an existing government services provider objects to the competitive bidding process its client conducted to select a replacement services provider (typically at a lower cost).
Once a protest is lodged, the existing contractor continues to operate (and collect revenue) while the complaint is patiently examined by federal acquisition regulators. Protests represent one way—a sketchy way, some would say—to sustain revenue post-sequestration.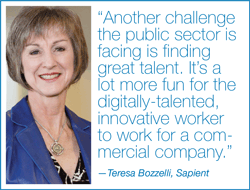 Sequestration is forcing consulting firms and their public sector practices to contend with an uncertainty of uncertain duration: Will it fundamentally re-set how the government uses professional services, or will it end next month?
"Uncertainty creates a bit of a pause," notes Sharon Marcil, a senior partner with Boston Consulting Group and leader of the firm's public sector practice in the Americas. "If you believe sequestration is temporary … then your tendency is to make small changes."
Many public sector clients have so far favored making smaller changes, and Willen also reports that more and more clients also favor shorter assignments with fewer project extensions and-or follow-up work.