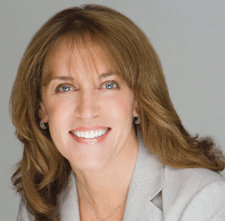 Jill Puleri
Vice President and the Global Leader for Global Business Services
IBM
Excellence in Retail
Jill Puleri is a Vice President and the Global Leader for IBM's Global Business Services retail consulting practice where she is responsible for the vision, strategy and financial growth of the retail industry.
Puleri has over 20 years of experience with clients in the retail industry having held various leadership positions in sales, marketing and consulting. But when you ask her to come up with her biggest achievement over the last 12 months, she says it was identifying a category of business change that she thinks will be as important as ERP—front office transformation. Translation—leaders who will rely more and more on data. "Retail is one of the industries at the forward edge of this transformation," she says.
All aspects of the retail business are now changed from being product focused to consumer focused, she says. That, she says, is reflected in a breakout year for IBM's retail consulting practice. "We achieved record signings, and became one of the largest industry practices in IBM," she says.
For a long time, Puleri says, we've heard versions of the idea that there is no business strategy without a technology strategy. "Well, this is the tipping point. We've crossed over from IT in support of business strategy, to IT as business strategy," she says.
"Retail, like many industries, is saturated with data and bringing data elements together and being able to glean valuable insight about consumers is what's causing the need for speed, immediacy and reliance on advanced technology. If clients miss the major shifts now, they're at serious risk. I've spent my entire career in retail, focusing on solving my clients' most important business challenges, and showing them the next big possibility at the intersection of their business and advanced technology. It's exciting, scary, complex, intense and motivating—all at the same time."
These are crucial times for brick-and-mortar retailers as they evolve and integrate a digital presence into their strategies and put the consumer at the center of all that they do, Puleri says. "Those that make good decisions are going to prosper; those that don't are going to slip back into the back," she says. "Those are high stakes, which simply means we have to be at our best for our clients that rely on our advice and ability to execute the transformations that take them from where they are, to where they need to be.
While she says that basic premise has been true her entire time in retail, "the difference today is the speed, scope and scale of the change as retail is transformed by both the consumer's access to information and the revolution in areas like social, mobile and analytics."

Q&A: What does winning the Top 25 award mean to you, your firm and your clients?
"For IBM, I view it as a reflection of our brand promise, grounded in access to experts and expertise. For me personally, this is a very humbling honor. I've spent 26 years inside the retail industry, and to be included among the industry's top consultants, more than anything else, says the client work mattered."