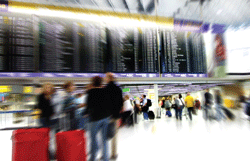 Lawmakers scramble to pass a bill that would end furloughs and ease flight delays at U.S. airports
In case you haven't noticed, non-weather related delays at U.S. airports are on the rise. (And I know you've noticed that weather-related delays are definitely on the rise.)
Are furloughs and budget sequestration to blame? Although the Federal Aviation Administration cautioned that it was still a little too soon to tell what overall impact budget cuts would have on the nation's air travelers, it's safe to say it will have some effect. So, is it time to blame the Federal Government?
United Airlines CEO Jeff Smisek thinks so and spoke out last last month when he criticized the FAA furloughs of air traffic controllers during a conference call about United's first-quarter results.
The FAA said it is instituting "traffic-management initiatives" at U.S. airports because it has to furlough air traffic controllers due to sequestration. The FAA said it is experiencing what it calls "staffing challenges" in Miami, Los Angeles, Tampa and Chicago O'Hare. It also said travelers can expect delays in Las Vegas. "Travelers can expect to see a wide range of delays … depending on staffing and weather-related issues," the FAA said in a statement.
In addition, late last month, FAA said that controllers will space planes farther apart so they can manage traffic with fewer staff. The last week of April, the FAA was reporting more than 1,000 delays a day due to staffing reductions resulting from the furlough. The FAA also said it will continue to work with the airlines to try and minimize delays for travelers.
But help could be on the way. Late last month, lawmakers approved a bill that would end sequester-related furloughs of air traffic controllers, and thus ease the furlough-related flight delays that have occurred throughout the U.S.
The measure would "provide the Secretary of Transportation with the flexibility to transfer certain funds to prevent reduced operations and staffing of the Federal Aviation Administration." The House is expected to vote on the bill shortly.
And the consequences are dire—the U.S. Travel Association estimates that flight delays resulting from FAA furloughs of air traffic controllers could cost the U.S. more than $9 billion in lost economic output for the fiscal year. Stay tuned…
Meanwhile, on the global front…
The International Air Transport Association reported that worldwide airline passenger demand in February grew 3.7 percent year over year, though demand from the U.S. point of sale was weaker.
For North American carriers, international traffic in February increased 0.3 percent year over year, while domestic U.S. traffic fell about 0.6 percent. "As with international traffic, the year-on-year growth rate is masking a recent uptick in the growth trend" in North America, according to IATA. "The U.S. market has been growing at an annualized rate of 9 percent since the fourth quarter of 2012."
IATA director general and CEO Tony Tyler said the February figures were positive overall, he did say "much of the growth is concentrated on emerging markets." Tyler pointed out that even though domestic traffic did dip, capacity fell even further—by some 2.5 percent year over year.