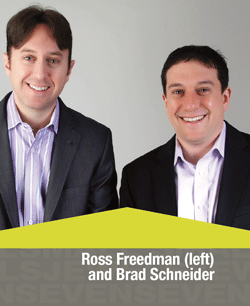 Who would've believed that two college freshman who met at orientation would someday be running their own technology consulting firm? But that's just what happened when Ross Freedman and Brad Schneider launched Rightpoint in 2007 with "just the two of us operating out a lunchroom," says Freedman. "We spent the first three months having coffee with just about everyone we knew to explain our story and what we were trying to accomplish."
What they were trying to accomplish, Freedman says, was to "challenge the status quo in consulting" by combining right-brained people who really understand consulting and technology with left-brained people who really know how to build something or design a user experience.
"We see a trend today where organizations are merging their CIO and their CMO functions," Freedman says. "We believed there was an unmet demand, and we were trying to create a truly unique consulting firm that delivers the total package." Schneider says they saw almost immediately a real and significant opportunity to differentiate themselves in the marketplace by bringing those two different mindsets together to create a competitive edge.
And it's paid off. Last year Rightpoint grew 35 percent and Freedman and Schneider expect an even a bigger increase—41 percent—in 2013. And Freedman says the firm is anticipating high growth over the next few years in the 20 to 30 percent range. Key clients include New Balance Athletic Shoes, Jones Lang LaSalle, YMCA of the USA and Exelon.
Through the growth, however, Schneider says it's absolutely critical that Rightpoint doesn't lose its unique culture. He admits that creating a culture that caters to both personality types can be tricky, but the firm "spends a lot of time focusing on both groups with very different and diverse needs," Schneider says. "We want to create an environment where people have a sense of belonging, a sense of home and, most importantly, a platform by which they can express their passion."
To that end, Schneider says, Rightpoint has taken a number of steps to foster that type of environment: They include: the Wow Wall, a dedicated space to acknowledge and celebrate teams; the Compassion Crew, an internal group focused on identifying ways to give back to the community; and the People Pulse, a quarterly anonymous survey. One other area of distinction: Rightpoint has a Director of People Potential, strategically tasked with making sure the firm is proliferating its culture, rather than a typical Human Resource Director.
"Everything we do at Rightpoint is meant to make the firm feel small and to keep that culture that has made us successful up until now. Once we lose that, we're nothing," Freedman says. "We're sort of at that inflection point, and we're going to work very hard over the next few years to make sure that we don't forget why we were born."