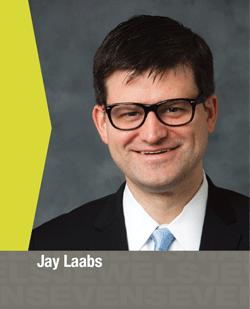 Jay Laabs never envisioned he'd run his own company. Oddly enough, he always dreamed that he'd work at a big firm, but "coming out of college, none of those places wanted to hire me so I ended up working for a small software company of about 40 people," he says.
"Because it was a small firm, I was exposed to a lot of different aspects of the business—marketing, product development and sales—even though I was a project manager. The owner pulled me in to help in all of these other areas and I got to have input into various aspects of the business."
Hyperion bought that software firm and few years later, Laabs and "a few of us who just weren't willing to wait our turn," left to launch Blue Stone International in 2005. At Hyperion, one of Laabs' clients was General Electric. One of those GE clients became a co-founder of Blue Stone. "The two of us getting together is sort of why we are here today," he says. "He brought some big company mentality and his pedigree helped round out some of the areas we needed to get off the ground."
From humble beginnings around a kitchen table with a skeleton staff, the two built a model that allowed the firm to scale through the early years until the economic collapse. "Things really took off in 2008 and 2009 through the recession when there was a huge emphasis on all the things that we really did well," Laabs says. Things like building end-to-end financial solutions, but even more so providing that small firm feel of personalized solutions he learned early in his career.
The approach is paying off. Blue Stone continued its recession era growth in 2012, posting a 64 percent increase in revenue. For this year, it's forecasting a more modest, but still impressive, 26 percent growth. "I do think that growth is sustainable over the next several years because of the new offices and new service lines we're opening up," Laabs says. "We play across the U.S. right now but in cites like Atlanta, for example, we should be a lot more active."
To that end, Laabs says Blue Stone will open offices in Atlanta in the near term and Los Angeles later in the year, probably in the fourth quarter. As much as possible, Blue Stone wants to be where the work is. "We try to provide local teams whenever possible because consultants deliver better value when they are local," Laabs says.
"Teams function better because they are used to working together. We end up delivering better value for our clients because they are teams—not just groups of people thrown together on an engagement. We call it our Get Local strategy."
That strategy has led to nearly a 100 percent retention rate, something Laabs attributes to the emphasis put on teams. "Even though we've grown quite a bit, I would say that the culture has remained great," Laabs says. "If we don't keep the culture intact, than Blue Stone becomes just like everybody else."