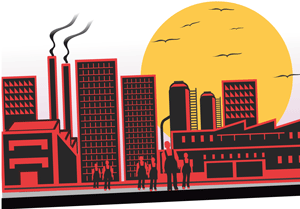 Disruptive forces are creating big problems. The sector needs Innovative solutions and consultants can provide them. Or can they?
By Erick Krell
When talk turns to the U.S. manufacturing sector, consultants think momentous changes are stirring. The Boston Consulting Group refers to the repatriation of manufacturing jobs to the U.S. as a "tipping point" while Deloitte describes the skills gap manufacturers confront as a "boiling point."
This on-the-edge dynamic also is evident in the numerous and often intersecting challenges manufacturing companies hire consultants to help them address: supply chain efficiency and supply chain risk management; skills shortages and the repatriation of U.S. manufacturing jobs; and operational efficiency and energy efficiency.
Even manufacturing wages seem to be simultaneously increasing and decreasing (or at least stagnating). Globalization generally has pushed manufacturing wages down in developed economies; at the same time, intensifying competition for workers with more advanced and technical manufacturing skills drives some manufacturing wages higher in developed economies.
An overarching need runs through most of these challenges. "Manufacturers are increasingly focused on, and hungry for, innovation," reports Chris Tapia, a North Highland Principal.
This desire serves as a catalyst for consulting thinking and solutions brimming with ingenuity. McKinsey, for example, encourages manufacturers to consider transforming their supply chains into "supply circles." The former conception furthers an outdated mindset in which materials are merely collected and disposed of, whereas supply circles "emphasize that materials can be looped back into the product process after they have fulfilled their utility over the life of a product," according to a June 2012 McKinsey Quarterly article.
U.S. Manufacturing Opportunity Index
U.S. manufacturers confront customer demand and commodities-price challenges as well as skills shortages, the growing bifurcation of the manufacturing workforce, and the (appealing yet disruptive) possibility of a domestic manufacturing "renaissance."
67%: Portion of senior executives at U.S.-based global manufacturers who are concerned about the impact of customer demand on their company's ability to achieve growth goals in 2012.
60%: Portion of senior executives at U.S.-based global manufacturers who are concerned about the impact of rising commodities costs on their company's ability to achieve growth goals in 2012.
67%: Portion of U.S. manufacturers that report having a moderate to severe shortage of available, qualified workers.
56%: Portion of U.S. manufacturers that anticipate the shortage to increase in the next three to five years.
64%: Portion of U.S. manufacturers in which workforce shortages or skills deficiencies in production roles are having a significant impact on their ability to expand operations or improve productivity.
4.5%: Increase of median annual base salary for a senior mechanical engineer in U.S. from 2011 to 2012.
1.1%: Increase of median annual base salary for an associate production technician in U.S. from 2011 to 2012.
$80 billion to $120 billion: Additional annual output to the U.S. economy in coming decade generated by repatriation, or re-shoring, of manufacturing jobs.
$2 million to $3 million: Number of manufacturing jobs this re-shoring is projected to create during coming decade.
Meanwhile, Deloitte promotes a ground-breaking approach to regulatory relationship management. Rather than belly-aching about public policy, why not supplement lobbying activities with a more strategic approach? Greg Giffi, vice chairman and consumer and industrial products industry leader for Deloitte LLP, speaks of a coming "competition between nations for policy effectiveness," one that places "a premium on collaboration between policy-makers and business leaders to create win-win outcomes."
As these and other innovative ideas demonstrate, the desire for bold, new projects and services stretches from the shop floor to the C-suite. For good reason: "It is clear," Tapia adds, "that companies that have been more innovative than their competitors over the past several years are being rewarded for it more so than they were in the past."
Threats, Challenges and Opportunities
The supply of disruptive forces fomenting challenges that require innovative solutions seems to be near an all-time high. These forces represent both threats and opportunities; all of them appear to represent significant opportunities.
Truly Global Competition
Countries and continents are competing for several resources right now, including capital, natural resources and skills. "Competition between nations to attract foreign direct investment will increase dramatically," says Giffi, "raising the stakes for countries and complicating the decision processes for companies."
He also suggests that competition for increasingly scarce natural resources "will fundamentally alter country and company resources strategies and competition." Yet, competition also can serve as a catalyst of innovation. "Significant materials sciences breakthroughs" driven in large part by scarcity of select commodities and resources, Giffi continues, could exert a major influence on global manufacturing.
This scarcity is primarily driven by the accelerating appetite for natural resources in emerging markets. Not only have many raw materials become more difficult to procure, their prices have become much more volatile, disrupting procurement and forecasting capabilities.
In their resource productivity article, McKinsey consultants Stephan Mohr, Ken Somers, Steven Swartz and Helga Vanthournout report that the variable cost of a Western steel company soared from 50 percent to 70 percent of total production expenses from 2000 to 2010. With dramatic uncertainty a near certainty to continue, manufacturers are looking for help in reducing costs, creating more stability in production processes and establishing more comprehensive sourcing and pricing strategies.