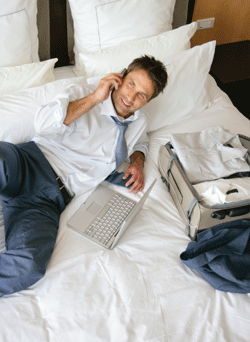 Survey reveals the evolution of business travelers as road warriors seek amenities of home
A new survey of frequent business travelers found that they want more room to spread out, the ability to maintain a normal routine and opportunities to interact with business associates and fellow travelers, according to Homewood Suites by Hilton's 2012 Workstyles Study.
The study—Life on the Road: More About Life and Less About the Road—surveyed more than 550 business travelers about the way they live life on the road and the value travel has for their business.
The most telling Workstyles Study results, according to Christian Kuhn, Homewood Suites by Hilton vice president of marketing, focused on business travelers desiring the comforts, amenities and routines of home.
"In 2012 the hotel industry has seen a rebound in business travel, but returning guests are now demanding more than just a fiscal value," Kuhn says. "Less impressed by bells and whistles, they want amenities and services that deliver both comfort and productivity. At Homewood Suites, we think life on the road for business travelers should not have to be a departure from their normal routines, and results from the study reinforce this belief."
One survey takeaway was travelers' desire to make the most of traveling for business. "Corporate travelers are emphasizing both how to maximize value for their travel expenditures and their productivity while traveling," says Bjorn Hanson, Dean, New York University Tisch Center for Hospitality, Tourism and Sports Management.
"Business travelers are indicating increased willingness to try new brands this year, so extended-stay hotels, for example, will help extend their travel budgets and meet their business needs."
While travelers seek a strong value proposition from hotels, they continue to redefine which amenities deliver the most bang for the buck. Internet access was the most desired amenity (88 percent), but dining, particularly healthier food options and enhanced fitness facilities were also high priorities.
A total of 553 travelers participated in the survey, representing an even male/female split. All respondents have taken three or more trips of four or more days in the past twelve months.