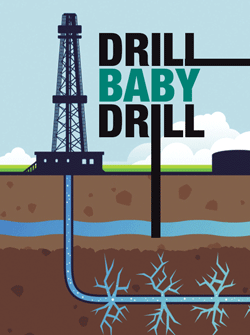 Finding The Energy: Go beneath the surface and consultants will discover layers and layers of challenges… and plenty of opportunities waiting to be extracted
By Eric Krell
Shale, shale, shale.
On the surface, shale gas extraction marks one of the most influential and disruptive technologies shaping the energy and utilities industries. But drill deeper (in a horizontal direction, to be sure), and it's clear that shale gas marks only one of many disruptive forces complicating a major internal challenge these companies confront: planning, planning, planning.
More energy and utility companies desire what Branko Terzic, the Washington D.C.-based executive director of the Deloitte Center for Energy Solutions, describes as "strategic flexibility." This adaptive capability is being achieved through a combination of scenario planning, portfolio management and even a rethinking of the strategic planning process.
"People are trying to figure out how to create a more adaptive organization and a more adaptive planning process to be able to manage more effectively through this high level of uncertainty," reports David Gee, a Partner at The Boston Consulting Group in Washington D.C., and leader of the firm's energy practice in the Americas.
In the past decade, numerous planning efforts came to a standstill due to uncertainty related to potential carbon legislation, a global recession that greatly reduced the growth of oil and electricity consumption, more regulatory uncertainty and questions about the amount and impact of abundant domestic shale gas (and, now oil) supplies.
Although everyone talks about the low price of natural gas, the country's shale gas supply also extracted something else from a long list of challenges: volatility. That's a refreshing subtraction, yet one that creates a number of new and significant implications—on the potential for new liquefied natural gas (LNG) exports, new nuclear plants, commercial vehicle fleets, talent management strategies and more. The ripple effects of shale gas and oil—which include new growth opportunities, more regulatory questions, more talent management demands, even a transformative role of the U.S. in the global energy mix—are numerous and far-reaching.
All of these developments have intensified the need for more insights, planning and expert perspective, and that translates to abundant consulting opportunities. Robert Zabors, the Chicago-based Founder and Partner of Bridge Strategy Group, reports that his firm is very busy with scenario planning, the creation of detailed generation studies, corporate strategy work and more. The question is what people do about it," Zabors points out. "It's good to stretch your thinking and to look at different strategic drivers, but it's something else to truly build that into the way you do business. That ability to respond is vitally important."
While utilities and energy and petroleum (E&P) companies each face unique challenges, there are several drivers of change (e.g., technology, talent and prices) that affect each industry in a similar fashion. North Highland Vice President Tim Gunter recently attended his firm's global summit on energy and utilities and reports that there are several areas in which "both communities see several similar types of trends." In other cases, of course, utilities and E&P companies face unique industry challenges with unique consulting implications.
These industries share another similarity, given the increasing number and magnitude of the strategic questions they face. "Consulting seems to be mostly about getting a handle on a future that looks more uncertain than it has looked in a long time," Zabors adds. "Uncertainty is good for consulting firms."
Shared Challenges
Shale gas extraction technology remains the most disruptive challenge utilities and energy companies are addressing; it represents "the single biggest event in the industry, probably since the oil embargo," asserts Gee. "Everything else in the U.S. energy industry is probably a second order of magnitude to the shale. It just overwhelms everything else."
Yet shale gas is not the only technological driver of change out there; nor is it the only force both industries are responding to with investments in consulting expertise. Other drivers of change include:
Technology: The impact of shale gas extraction technology is huge; however, the impact of shale oil extraction could be even greater, potentially slashing the amount of oil the U.S. would need to import while retaining billions of dollars of capital in the country (not to mention the job creation a thriving domestic shale oil operation would drive). In terms of power generation, the U.S. Department of Energy (DOE) has committed more than $400 million to help energy companies develop small modular reactors (SMRs), which can be more easily deployed than traditional reactors (among other benefits), depending on many factors (including the price of natural gas and the fate of carbon legislation). Solar technology has improved, and at least some energy and utility consultants expect the price of residential solar systems and installation to come down significantly in the near future.
Inside organizations, legacy information technology (IT) systems require upgrades and greater integration with what Gunter refers to as operational technology (OT) systems (i.e., applications that monitor power production, transmission and usage). Yet, numerous competing capital investment priorities exist. Neither Gunter nor Zabors reports that utilities are clamoring for major implementation work. However, Zabors says that it "has to be done at some point," and he also points out that cyber-security remains an ever-present issue. "Cyber security is something all of these companies need to be aware of," he adds. "If something major occurred, it would change the game and everyone would have to react very quickly."
Price: Commodity prices remain a constant driver of change. "In a matter of 24 months, the economics of nuclear and coal development projects and plants in service deteriorated dramatically as the spot and forward price of natural gas rapidly declined and power prices followed," explains New York-based David Herr, managing director, energy & mining industry leader for financial advisory and investment banking firm Duff & Phelps, "Whether the Fukushima disaster occurred or not, nuclear development projects (other than those receiving rate recovery) could not weather the storm of lower gas prices resulting from U.S. domestic shale development." Japan's response to the Fukushima disaster and the low price of natural gas have made that country an extremely appealing market for liquefied natural gas (LNG).
Regulation: "Everything in the energy industry is determined by policy and regulation," observes Kevin Sullivan, Atlanta-based Senior Vice President of KEMA Consulting. A brief survey of potential regulations supports Sullivan's point: Recently enacted or possibly-looming rules influence nearly every facet of power markets. For example, an estimated 40 percent of existing coal-fired plants do not have the advanced systems in place required to comply with the Environmental Protection Agency's (EPA) Mercury Air Toxics Standards (MATS). The so-called utility MACT rule, which was released in late 2011, limits emissions of heavy metals.
The lack of a national energy policy and stalled (though always possible) carbon legislation add to the murky regulatory dynamic. Potential rules and regulation regarding SMRs, LNG and shale extraction (as well as, you guessed it, carbon legislation) would create new dynamics. "Legislative or environmental restrictions related to hydraulic fracturing and unconventional drilling," Herr notes, "represents the single largest risk to the oil and gas industry and a major risk for the US economy as well."
Talent: Both industries face talent challenges and skills gaps. Energy companies struggle to find the energy and technical talent and skills they need to exploit opportunities in specific geographies (e.g., Gulf Coast, North Dakota) while utilities face demographics-driven talent shortages. The long anticipated and much-talked-about exodus of baby boomers from the upper and middle ranks of energy and utility companies is underway. "It's really happening now," says Vance Scott, Lead Partner for A.T.