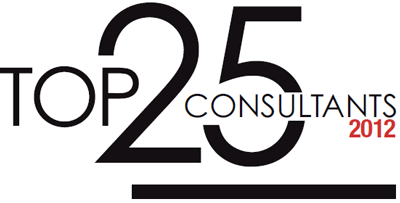 Covering the consulting profession must be a lot like working for the CIA or FBI. Boy, we could tell you some stories, but we're sworn to secrecy. Sometimes, we can you the story, just not who it's about. And then other times, like our annual Top 25 Consultants issue, we're able to take a break from covering what is happening in the industry and focus on who is making it happen.
This year we received more client nominations than usual and that's always great news. While we're not always able to share the client names publicly, it's a pleasure to hear from them and even better to hear how much of an impact consultants are having their business.
It's often difficult for us to get that type of feedback from clients, and it's always a great read when we do. And the more we do the better we'll be able to cover the consulting profession. So, to the extent you can, keep encouraging your clients to reach out to us. We appreciate it.
With more client nominations than usual, it's no surprise that we topped our record for Top 25 nominations received. This year, a staggering 476 nominations rolled in, recognizing consultants from the largest enterprise firms right down to some at the smallest niche firms, all doing great work. We read a lot about growth, expansion, new markets, new disciplines and new directions.
For this year at least, gone was the talk of cost cutting, restructuring and doing more with less. It was sure nice to read nominations that didn't emphasize bringing clients back from the brink of disaster. That's a welcome change; let's hope that trend sticks around for awhile.
The Top 25 Consultants are a distinguished group, for sure. So much so, in fact, that we've assembled a special section to highlight their accomplishments. Read their stories and one can't help be impressed and inspired. Through their efforts, they make all of us—as well as our firms, our clients and our profession—proud.

Jack Dunn, FTI Consulting
Jim Armetta, Protiviti
Chris Bierly, Bain & Company
Jon Caforio, McGladrey
Michael Carberry, North Highland
Michael Cirafesi, CSC
Matthew Cohn, Capco
Dave Cutler, Slalom Consulting
John Distefano, Ernst & Young
Lynne Doughtie, KPMG
Sandra Forero, ZS Associates
Greg Guthridge, Accenture
Scott Hefter, PwC
Geralyn Hurd, Crowe Horwath
Stuart Jackson, L.E.K. Consulting
Harvey Kelly, AlixPartners
Stephani Long, Deloitte Consulting
Patricia Milligan, Mercer
Xavier Mosquet, The Boston Consulting Group
Bill Olsen, Grant Thornton
Joe Raudabaugh, A.T. Kearney
Elaine Remmlinger, Kurt Salmon
Allan Steinmetz, Inward Strategic Consulting
Michael Valocchi, IBM
Jack Williams, Mesirow Financial Consulting