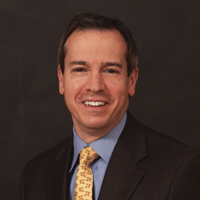 Michael Valocchi
Vice President, Partner
IBM
Excellence in Energy
Michael Valocchi is the Global Energy and Utilities leader for IBM Global Business Services where he is responsible for the development and execution of the industry strategy to deliver consulting services as well as the development and direction of the Industry thought leadership and solutions strategy. He is fond of saying that "Energy is essential. It affects everybody in the world."
It's no surprise then that the energy and utility veteran was recently asked to participate in an exclusive task force to examine Africa with an eye towards enhancing the economic and societal standards through infrastructure improvements. Valocchi says that when meeting with government officials in Nigeria, it was heartening to hear someone say, "We have been waiting for you to show up."
"It is unbelievably rewarding to be involved in a larger effort that improves the quality of life and promotes the long-term sustainability of a rising continent," he says. "The most eye-opening part of the experience was realizing the awesome potential that lies in the growth of the African economy ahead."
Having the chance to spend time in Africa, including visits to an orphanage in Kenya and governmental and business offices in Nigeria, gave Valocchi the chance to see firsthand the consequences of a basic lack of infrastructure.
"Our team helped identify and map out technology solutions that could modernize essential aspects of African society—from introducing new broadband, banking and other necessary infrastructure improvements, which would lead to sustainable economic growth," he says. "The impact of energy touches the individual lives of consumers living in a global economy. What I have enjoyed most in my 26 years of consulting is providing strategic counsel to clients on issues that are critical to society. I also enjoy applying the use of technology to develop innovative solutions for business."
As far as the recognition, Valocchi says "IBM has emerged as a leader in driving industry-focused solutions that are backed by world- class implementation of software, hardware and research resources," he says. "IBM works with clients to simplify the challenges of a complex world by creating greater certainty about the outcomes.
We do more than just advise; we help our clients envision a new end-state using IBM technology, expertise, and process change for transformation."

Q&A: What's the biggest factor to your success?
"Being a good listener has contributed to my success as a leader and has enabled me to better connect with the needs of my clients, fellow partners and staff. This has allowed me not only to learn, but also be more successful in coming up with the right strategies and solutions more quickly. It has also influenced my overall leadership style, which tends to be collaborative and inclusive. My unquenchable thirst to learn motivates me to excel. Intellectual curiosity has always served as one of my primary motivators. At heart, I am a strategy consulting professional who wants to resolve complex problems for my clients."