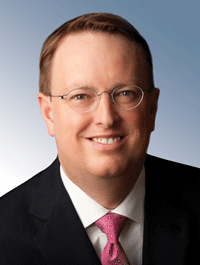 Greg Guthridge
Global Managing Director, Global Utilities
Accenture
Excellence in Energy
Greg Guthridge leads Accenture's global utilities customer care practice where he has significantly shaped the energy industry by serving 95 percent of the top 100 energy companies worldwide. He also supports over 5,000 professionals.
Over the past 23 years, he has led and managed customer service-related transformation programs, outsourced business operations, and strategic vision projects for clients in North America, South America, the United Kingdom, Europe, and Asia Pacific.
"We live in a highly interconnected global society," Guthridge says. "No matter where you are in the world, in this day and age the issues and challenges are largely the same. That said, the manner with which our challenges are defined, analyzed, and executed vary considerably from culture to culture. That's what makes my work so varied and interesting."
Recently, that work has been leading an Accenture team that focuses on redefining energy efficiency, conservation and 'next generation' energy management.
"We are helping utilities, retail energy providers, regulators, and governments around the world rethink and re-imagine their policies, strategies and operating models in the face of new challenges and opportunities," he says.
"Our strategies and business models are helping many enterprising energy providers to develop solutions that leverage new technologies and capabilities to enhance consumer value and mitigate impacts to the environment. I am proud that my efforts, and that of my great team, are making a difference."
Another difference maker, he says, is Accenture's ability to bring innovation, creativity and ingenuity to the client solution. "Never content with what we may have already achieved, I am focused on the 'art of the possible,' he says. "I strongly believe we need to help our clients achieve 'breakthrough thinking,' and I love helping them drive change."
As far as the Top 25 award, Guthridge says: "Winning is a validation that I am making a difference and that the people and clients important to me value my unique approach to motivating and encouraging courageous change," he says.
"I am honored to be nominated by the very people I manage and serve. My company, Accenture, stands for high performance and value creation, while maintaining respect for the individual. This award reflects our core values and I believe those of our clients."

Q&A: What's the biggest factor to your success?
"Simply said: One foot in today and one foot in tomorrow. The secret to my success is helping our clients maintain a balance between today's operational execution and forging a path for tomorrow. I think this is far more difficult than people might think. I strongly believe that today's most successful organizations relentlessly balance, in equal measure, the core disciplines of strategy and operational effectiveness. I would be remiss for also not acknowledging the importance of teaming. Creating and maintaining a high performance team is an unbelievable challenge; but when achieved the team can drive extraordinary innovation and energy. It is incredibly satisfying to lead an empowered, respectful and motivated team."