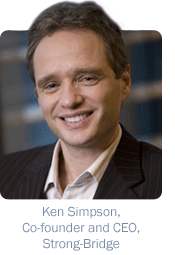 Based in Seattle, Strong-Bridge Consulting has a hand in some pretty hot-moving industries: from Telecommunication to Consumer Electronics to Healthcare and Financial Services. As key players in the industries shake off the last remnants of the Great Recession hangover, Strong-Bridge has found clients are once again kicking it into high gear, pushing products and services into the rebounding marketplace. Growth has remained steady for Strong-Bridge since its founding in 2003. The firm is looking to add 30 consultants this year, and has launched a broad hiring initiative to achieve that goal. Last year, the company opened a second location in Toronto, which should help Strong-Bridge continue its growth in the years ahead. Consulting One on One sat down to discuss it all with co-founder and CEO Ken Simpson.
Consulting: What are you finding clients are asking for in the industries Strong-Bridge serves?
Simpson: We've been seeing a lot of demand in taking new products and services to markets. Companies have been investing more in their offerings to the marketplace—a lot of them have some pretty significant technical components—and we're doing a fair bit of work helping to manage those launches. We're also seeing a lot of work that's almost "catch-up" following the downturn in the 2008 to 2010 timeframe—a lot of enhancement and operational improvement type work, we're definitely seeing a lot of demand around those kinds of things.
And that seems to be almost industry-agnostic we're seeing that type of demand. For example, we're dealing with very large retail client taking a high-visibility, highly thought of product and service to market this fall, and we're working with a couple of clients who are driving at new services and new smartphones and new offerings around those phones.
Consulting: Why the timing for the hiring blitz and new location?
Simpson: We wanted to get back to hiring, and build up our process and staff and team dedicated to it. We're growing in a robust yet thoughtful way, and we're really looking for top talent. We're at 112 now, we started the year at 98, and the last year at 46. Our target for the end of the year is 130. We opened the Toronto office a year and a half ago. It's still pretty small.
We had been thinking back as far as 2008 we would like to start broadening the business. We thought a geographic expansion would help us continue to grow in a different way. Then the 2008 financial crisis happened, and we hunkered down and didn't think that was the best time to do it. Through 2009-2010 we ended up doing some very significant work in Toronto, and got in touch with the marketplace there and got a sense of what was happening and the type of work going on there, and ultimately thought it'd be a very good place for a second location.

Consulting: What do you see as the biggest growth industry for you guys over the next year?
Simpson: Very good question, especially in our local market where things are happening with T-Mobile and the failed merger with AT&T. I think healthcare will continue to be a hot market, we certainly see a lot of demand in that space both in payer and provider side; a lot of large-scale systems and operational issues out there and I think that's going to continue.
I think Teleco will continue to be a busy sector, and there are probably some fundamental changes coming in that sector domestically and probably internationally over the next many months and quarters. I think the nature of the work will continue to evolve. The tech sector clients are very busy and they've pretty much weathered the recession storm and are launching major capital projects. We're also seeing retail is more and more busy, some very visible at the Wall Street level. We're not in an environment of unconstrained spending and growth at all costs like we saw during the dot-com boom, but I think we're in an environment of prudent and thoughtful spending.
Consulting: What does the rest of 2012 have in store for Strong-Bridge?
Simpson: We want to keep growing toward our headcount target both in Seattle and also in Toronto. We are focused on trying to grow that presence staying within our core verticals, continuing to evolve our thought leadership and be seen in the marketplace more for our thought leadership perspective, particularly in customer experience, digital strategies, that kind of thing. I would also tell you we're relentlessly focused on doing the right thing for our clients. Hardly a week goes by that I don't get a call or email with positive feedback on our style and approach.