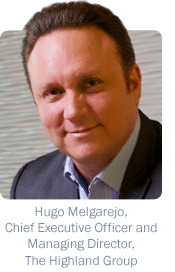 Hugo Melgarejo is a consulting industry veteran with 20 years of experience in designing and implementing performance improvement initiatives in Fortune 1000 and Global 1000 companies. After serving as President of Proudfoot Consulting, Melgarejo left the firm to join The Highland Group in 2009 as Chief Executive Officer and Managing Director, Americas. Under his leadership, the strategy and operations firm has tripled in size and opened offices in Brazil, Chile, and Canada, among others. "It is amazing and very exciting to see what is happening in the organization, but it's also a big challenge," he says. Melgarejo sat down with Consulting One on One to talk about The Highland Group, its growth and its strategy and some of those challenges going forward.
Consulting: Since you took over, The Highland Group has been growing like gangbusters. Why is that?
Melgarejo: We started in the $10 to $20 million range, and it's easier for a firm to grow when it starts at that number. We grew at 100 percent in 2010, 80 percent in 2011 and we're projecting another 50 percent growth for 2012. By the end of this year, we'll be somewhere between $100 to 150 million, which is five fold from a $20 million company. The next phase is for us to continue to grow, but reduce that rate of growth and make sure it's sustainable. It's challenging, it's fun and it gives us a ton of possibilities to bring significant talent to the firm.
Consulting: How are you handling the firm's talent as you grow so rapidly? How has that aspect of the firm grown?
Melgarejo: We were about 75 to 100 people in the fall of 2010. Today, we're between 250 to 300 consultants, and we'll be closer to 400 by the end of 2012. We have a senior model and we're always looking to bring in professionals with 10 to 15 years experience as either consultants or subject matter experts. That's also been very challenging because there are only so many of those people out there, but we're being very aggressive in our efforts to bring these senior folks into the firm. As we move into new markets, it's always a challenge. The majority of the growth—talent wise—will come into North America and South America. At least 60 to 70 percent of our growth is in North and South America.
Consulting: I know you've done a lot to expand the firm's presence globally. Why is that so important?
Melgarejo: Because our clients are global. When I got here, The Highland Group was basically a Maryland and Northeast consulting firm, but now we have become global. We moved the headquarters to Miami, and now we have offices in Chile, San Paulo, Brazil, Johannesburg, Zurich, and London.

Consulting: How about from an industry standpoint?
Melgarejo: We have huge momentum in mining and natural resources, oil and gas, but also transportation. Mining is about 30 to 35 percent of our total revenue and is our most sustainable revenue year on year. Consumer packaged goods is growing very rapidly and transportation would be third.
Consulting: What do you think are the firm's big differentiators?
Melgarejo: The way we go to market is a little different than most. We're mainly an operations firm but we have an intersection point with strategy. The typical operations firm will offer an analysis to the client and then try to sell a huge project. We do it a little bit differently: we go to the client and suggest what needs fixing in the short and medium term to meet its immediate strategic objectives. We develop something called a driver goal, and that is very specific in terms of impact and timeframe. In that sense, we link our services to the strategic goals of a company. Sometimes, that leads to projects that are pretty narrow in scope and duration, but we believe we are more client-centric than most firms. By focusing on these short and medium term needs, we develop deep relationships with clients that pay off in the long term.
Consulting: And your client approach is a little unique, as well. Can you tell me how your approach to client involvement is a little different?
Melgarejo: We allow clients to have an active participation in determining the size and scope of the project. We obviously use our experience and knowledge to guide them, but, armed with the right information, clients will come up with the right solution in terms of what the engagement should look like. It's a real partnership. At the Highland Group, clients have their fingerprints all over the project and its architecture. The have ownership. As a result, project success rates are much higher.