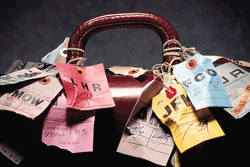 Average consultant now spends about 96 days a year away from home
Consultants are earning significantly more frequent flyer miles in 2011—as clear a sign as we've seen yet that the recovery is in full swing. The average consultant is now traveling 96 nights per year, up sharply from the last two years and almost all the way back to pre-downturn levels, according to two recent surveys conducted by Consulting magazine.
While the overall average number of travel days is up, the number of road warriors has remained largely unchanged. In 2010, 36 percent of consultants reported traveling at least three days per week. In 2011, 37 percent of consultants report spending at least half their work week on the road.
Meanwhile, clients also are reasserting more pressure on travel costs. Approximately 20 percent of consultants report that clients are requesting less travel (up from 14 percent in 2010) and 16 percent are requiring lower overall travel costs (up from 13 percent last year).
While few consultants enjoy the heavy travel burden, and likely even fewer appreciate the micromanagement by clients, it doesn't appear to be driving consultants away from the profession. Almost two-thirds of consultants say that are content with their travel requirements.
In contrast, just over ten percent say they'd prefer, or are actively looking for, a job that requires less travel. (Those results echo findings in a recently-published report series on staff retention, available from Consulting magazine Intelligence Reports . While consultants often complain about the heavy travel requirements at most firms, the research found that there is not a significant correlation between anticipated attrition rates and consultants' satisfaction—or dissatisfaction—with their travel schedule.)
How to Lessen the Travel Burden
Consultants' suggestions regarding how to improve their firms' travel programs vary significantly, but there are some common themes. In general, consultants prefer simplification. Common suggestions included:
 
Offering a travel per diem and trusting the consultant to spend it as "we see fit. All the receipts and the extensive report are a painful after-trip experience."

 

Allowing business class travel for all flights, not just for long flights.

 

And removing artificial restrictions on specific carriers, hotel and car chains and empowering consultants to make reasonable choices on their own.
These suggestions are based on consultants' collective travel experiences, which include some of the best and worst experiences of the traveling year:
On the Road Again: The Good
 
At a recent stay at the Hilton Fisherman's Wharf in San Francisco, I was traveling with medication that required refrigeration. Since my room did not have a refrigerator, the front desk arranged for my medication to be stored in the hotel's refrigerator and also arranged for my cold pack to be stored in the hotel freezer.

 

At the Four Seasons, Las Colinas, Dallas, the staff remembered the ages of my children, provided age-appropriate toys/stuffed animals/snacks to take home for each of them. The items were waiting in my room when I arrived.

 

The Ritz Carlton Jakarta has the most impeccable service and best rooms. If you ask for anything more then once, the staff will remember your preference!

 

The Taj Mahal Hotel in New Delhi offered the best service ever. Our flight was delayed over two hours and our hotel driver still waited outside to pick us up. Service at the hotel was phenomenal. Even when I did my laundry, my clothes were individually packaged with flowers on top.

 

The staff of the Raffles Le Royal in Phnom Penh, Cambodia, went out of their way to eliminate distractions—like monkeys—so I could work.
On the Road Again: The Bad
 
A fire in the hotel forced me to leave in the middle of the night.

 

My hotel bed was once so worn and used that there was an impression in the mattress. The hotel moved me to another room, but there were still issues with the mattresses.

 

I was staying in a hotel in Virginia and my room was on the 30th floor. In one night we had three false fire alarms—requiring me to climb 30 flights of stairs each time—and there was no offer of compensation for that of any kind. My request was denied.

 

The room above mine caught on fire while being remodeled. The fire fighting flooded my bathroom.

 

The room was not clean and had an odor. I requested another room and the staff accommodated my request, but did not seem at all surprised that the initial room had been dirty, nor did they apologize.

 

The door couldn't be locked. The hotel staff didn't do anything, other than offer to have a security guard make some passes by throughout the night. I had to move a chair and barricade the door.
On the Road Again: The Ugly
 
I was approached by an armed mugger at the indoor courtyard next to the hotel restaurant when returning from the office late at night. This was in a mid-size city in the heart of the downtown business and entertaining district. To protect my life, I had to engage with and disarm the mugger. The hotel had no security presence and did not get involved. Fortunately, I was not physically harmed, though I was shaken for several weeks. Oh, and I also had to switch rooms twice because of broken plumbing and glass in the room.