These days, thought leaders in the sector are focused on strategy, supply chain, sales & marketing, regulation & risk, process improvement, product innovation, sustainability and more. In short, we've moved way beyond the shop floor.
by Eric Krell
The challenges and consulting opportunities within the North American manufacturing industry have less to do with manufacturing these days. That's good news for consultants, practices and firms that can bring to bear broad expertise combined with deep and seasoned sector-specific experience in helping client companies address global competition, international joint ventures, global regulatory issues, a need for more accurate forecasts, dwindling supplies of natural resources, commodity price swings and a growing demand for product and customer service differentiation.
"For the most part, manufacturers know how to make things," notes Craig Giffi, chairman and U.S. national industry leader for consumer and industrial products at Deloitte. "They can create plants that are identical anywhere in the world. That was not the case 20 years ago. … It's not about the process of manufacturing right now."
At least not nearly as much as it once was. Instead, much of manufacturing consulting requires capabilities that extend above and beyond the factory floor. Giffi's point, echoed by other veterans in the sector, represents a slight exaggeration but one employed to emphasize an important point: today, manufacturing success hinges on much more than manufacturing capabilities. There is, and always will be, a need to improve shop-floor operations. The demand for lean manufacturing and Six-Sigma initiatives (albeit more focused efforts in support of specific components of corporate strategy) remains high.
A.T. Kearney, a firm that prides itself on its operations improvement work in the manufacturing realm, is seeing rising interest in its strategy work, which along with its operational and manufacturing engineering offerings represent the firm's three primary "towers" of manufacturing services across many diverse sectors and subsectors.
However, if a manufacturing client wants strategic guidance on factory consolidation options, that consideration requires expertise and analysis that delves into other capability areas, like operations improvements, explains Tony Lynch, A.T. Kearney principal and director of the firm's manufacturing center of excellence. This hypothetical client may be able to move from six plants to three, for example, but only if it can improve the level of performance within the remaining three plants by X percent.
The interdependent nature of the capabilities required to serve manufacturing clients is transforming the definition of a successful manufacturing consultant. "The manufacturing specialist today has a much more nuanced and diverse set of skills than the manufacturing specialist possessed 20 or even 10 years ago," notes Lynch's colleague, A.T. Kearney partner Sean Monahan.
Energy, Volatility, Rules and Age
The role of manufacturing consultants has changed dramatically in recent years—"20 years ago, you had guys who smelled of the oily rag making the lines run faster," notes one industry veteran—because of the number and magnitude of pressures and challenges confronting the industry.
These forces, which include several forms of volatility as well as global competition and sustainability mandates, are "driving manufacturers to transform ways doing things that have been in place and 'agreed upon for decades," notes Yves Leclerc, managing director of West Monroe Partner's supply chain practice and head of the firm's Montreal office.
Leclerc also points out that North American manufacturers are fundamentally rethinking their strategies due to a long list of drivers including pressure from environmentalists; an ongoing need to do more with less; increasing government regulations; increasing (once again, after a brief respite) oil prices; a scarcity of raw materials; the undervalued Yuan (and its labor arbitrage calculus); global workforce dynamics; and the need to contain or reduce costs in procurement, manufacturing, warehousing, inventory, and transportation.
Yet, just as commodity prices (like oil) can swiftly change, so, too, can the external forces and trends creating challenges and opportunities for manufacturers. Thinking of setting up a plant in China? Think again.
"China's interest in continuing to play the role of low-cost sourcing partner is waning," reports Peter Guarraia, co-head of Bain & Company's Manufacturing Practice in the Americas. Guarraia and other manufacturing consultants identify numerous drivers of change, most of which occupy the following categories:
• Labor Quality, Cost and Supply: A mid-2010 study conducted by the U.S. Council on Competitiveness and Deloitte's global manufacturing industry group identified talent—specifically, "talent-driven innovation"—as the most important determinant of a country's manufacturing competitiveness. Human capital costs are increasing in the U.S. at a time when a significant portion of the current manufacturing labor force reaches retirement age.
This aging workforce and dwindling supplies of domestic skilled labor are "forcing companies to rethink where and how they source and develop talent," notes Guarraia. "Healthcare is clearly on the minds of people running U.S. manufacturing companies," reports RSM McGladrey national manufacturing director Karen Kurek.
Healthcare costs have increased by an average of more than 10 percent in the past several years. "The cost of labor continues to be a huge issue for manufacturers in North America," agrees Point B Practice Director Chris Olson. "For older companies that have grandfathered benefits such as pensions and medical benefits for retirees, those costs will continue to create headwinds that will cut into profitability and create pressure to find other alternatives for sourcing production."
• Volatility: Although the U.S. manufacturing sector's recovery from the recession (17 consecutive months of growth as of January, according to the Institute for Supply Management's industry index) has been welcome, volatility continues to deliver swift impacts to manufacturers. These forms of uncertainty include macroeconomic (think quantitative easing), commodity prices, and regulations. For example, recent declines in the relative value of the U.S. dollar have made global exporting more attractive to many mid-sized domestic manufacturers.
As Guarraia notes, domestic manufacturers are increasingly bringing capacity back to North America and/or sourcing from nearer in locations such as Mexico "to ensure they have rapid response capability as well as strategic capacity should there be issues with China supply." Manufacturing experts also report that the demand volatility has increased significantly in recent years and should continue for some time.
This condition pressures manufacturers to make their cost structures less fixed and more variable. Commodity and raw material prices are rising, notes Protiviti Managing Director Sharon Lindstrom, "so manufacturers will need to actively manage that risk, while balancing it with the need to increase prices to preserve margin." Lindstrom points to another troubling form of uncertainty that will play out in 2011 and beyond: the impact of the U.S. budgets deficit on manufacturers.
• Energy Issues: The demand for more rigorous awareness and remediation of environmental impacts is coming from several stakeholders, including regulators, consumers and trading partners. As Olson notes, "many of these initiatives result in lower operating costs."
The current "environment concerning the environment" also poses opportunities. Energy supplies, costs and regulations are helping to drive innovation, change and, of course, consulting services. "Companies are looking much more carefully at how energy is used," notes Giffi. "How can manufacturers save energy, use alternate fuels, generate their own energy or get involved in co-generation?"
• Regulations and Risk: Looming CO2 legislation in the U.S. is far from the only regulatory issue manufacturers are confronting. All publicly listed companies are contending with the new requirements of the Dodd-Frank Wall Street Reform and Consumer Protection Act. Within manufacturing, the newly enacted Food Safety Modernization Act is sending ripples up the supply chain in the food sector. Last year, Ernst & Young's annual cross-industry survey of CEOs on business risks identified "regulatory and compliance concerns" and the top business risk in the U.S. That concern will remain a driver of change in 2011.
Simplicity Sells
Given the difficult and multifaceted nature of the challenges confronting North American manufacturers it is not surprising that the bulk of client demand relate to work and projects designed to reduce complexity—within strategy, on the shop floor, in supply chains and throughout information technology (IT) environments.
A recent Bain study of about 1,000 companies finds that roughly 70 percent of executives believe that complexity raises costs and hinders growth. A related Bain study, one examining the impacts of complexity on 110 companies in 17 industries, finds that "lower-complexity companies" grow approximately 1.5 times faster than their average competitors.
"It's no wonder that going forward, smart manufacturing companies will continue to aggressively pare down complexity in all aspects of the business," Guarraia says, "whether [this work involves] SKU count, the number of facilities and/or vendors, or operating model." In 2011 and beyond, manufacturing consultants will strive to bring greater simplicity and effectiveness to the following areas.
Strategy
Lindstrom, Guarraia and others expect to see an increase in consolidation activity, which suggests that the demand for growth strategy work as well as mergers & acquisition (M&A) due diligence and integration services should rise in coming months.
At the strategic level, companies also need help figuring out which international markets to target and how to enter them. "Exporting and working globally is something that makes sense, but it is a challenge for many manufacturers because they are not certain about how to go about doing it," notes Kurek. "How do you start exporting products?
If you know you need to do a joint venture in Estonia, who are you going to connect with? Companies that can figure out these issue have an advantage—but figuring this stuff out represents a challenge, particularly for upper middle-tier manufactures. … A lot of manufacturers know that they need to have a global strategy but many of them need help creating the strategy."
Manufacturers also need assistance figuring out how to rebalance regional manufacturing and supply "to better match regional demand location," notes John Ferreira, managing director for Accenture's management consulting Manufacturing Practice in North America. "In the past, global sourcing and location decisions centered on chasing low-cost labor, as long as quality was acceptable. But the real, total cost of managing extensive manufacturing networks has risen.
Many manufacturers moved too much production capacity off-shore to places quite distant from the centers of demand—driving up costs with more complex network management, and reducing their agility in responding to customer needs." Recent Accenture research indicates that 61 percent of manufacturing executives realize they need to rebalance their existing manufacturing and supply footprint to better match with the demand location.
Capgemini vice president Jim Sourges, who is one of the leaders of the firm's North American manufacturing practice, sees more clients moving to consolidate, harmonize and standardize processes and systems across their global enterprises. Capgemini refers to its work in this area as "One Manufacturer," and it includes process improvements (including lean approaches) and IT work designed to drive efficiency and cost reductions in every nook and cranny of the company in a way that aligns with high-level strategy.
Shop Floor
The process improvement efforts, most notably Six Sigma and lean manufacturing initiatives, have produced impressive improvements and some additional needs. "The U.S. has one of the most productive manufacturing workforces in the world," notes Kurek, who points to a doubling of manufacturing productivity (as measured by manufacturing output per employee) since the 1970s as well as an overall decrease in manufacturing employment in the U.S.
Factories are doing more with less, but clients need to figure out how they can produce even more with even less—and "without umpteen Six Sigma black belts running up and down the production line," as one consultant puts it.
Not that there's anything wrong with these process improvement methodologies and initiatives: after years of conducting these types of initiatives, clients want to concentrate this expertise in a more strategic manner. "Rather than having Six Sigma and related programs function as a bottoms-up effort, clients need much more of a top-down effort," Lynch explains. "Here are the costs we need to address, so how do we mobilize our squadron of specialists we've trained to attack these costs in the most efficient manner?"
Guarraia agrees, pointing to a growing interest in a "more pragmatic application" of lean and Six Sigma. "Manufacturing firms have been burned in the past by deploying armies of black belts on their shop floor," he notes. "They have turned their focus to training a few highly capable individuals and moving them among the highest-priority projects. "

Supply (and Demand) Chain
Kurek notes that the more pragmatic application of process improvement expertise continues to extend beyond the shop floor as well as beyond the four walls of the company. This work involves pricing, product innovation, traditional business forecasting and more traditional forms of supply chain optimization designed to address fluctuating fuel and transportation costs, regulatory changes, demand for product customization and the ever-present need for greater speed and transparency.
Lynch reports that he sees more companies in more manufacturing sectors calling on their procurement engineers to develop "should" costs before they go out to suppliers. These companies want specialists to reverse engineer the cost rather than simply relying on the competitive bidding process to determine cost. Additionally, product and service differentiation has become increasingly important. "How does the customer differentiate your company from the competition?" Lindstrom asks. "Customers also have higher expectations regarding technological innovation and the pace of change."
These expectations are driving manufacturers to change their production and supply operations to enable the manufacturing of customized products via shorter production runs. "More customized products will increasingly demand more modular manufacturing approaches, increased use of extreme forms of delayed product differentiation … [and] improved management synchronization of supply with closer monitoring of product life cycles," explains Ferreira.
IT
Consulting efforts designed to address all of the areas described above require some form of IT support. As is the case in most recessions, many IT projects were put on hold. "There is a pent-up demand for IT services," reports Kurek.
These services include, first and foremost, a big-picture understanding of a manufacturer's overall IT cost structure and portfolio followed by an assessment of how to make that investment more effective. "Manufacturers are taking a step back and looking holistically at their IT strategies and systems," Kurek notes. This holistic view includes work related to adding new ERP functionality, business intelligence (BI) and business performance management (BPM) applications as well as traditional manufacturing applications related to planning, production and execution applications.
"Many manufacturer want to give their customers the ability to check on the status of where the product is in the manufacturing process as well as where it is in the warehouse once it's produced," Kurel adds

From Manufacturing to Marketing
Although it may sound like a self-serving finding, the U.S. Council on Competitiveness/Deloitte study mentioned earlier indicates that the best-performing manufacturers apply advanced technology better than their competitors do. Giffi describes this capability, "the application of advanced IT," as all- encompassing, including systems within the organization that support production lines to applications that support global sales and marketing efforts.
Further, Giffi notes that the study finds that the best-performing manufacturers also differentiate themselves from average and lower-tier competitors in their drive to invest time and money in an area where they do not necessarily have an advantage today: global sales and marketing capabilities. Manufacturing is still about making things it seems, but in the future the most successful manufactures will excel in more and more areas beyond the shop floor.

Sought-After Services
Discussions with senior manufacturing consultants at Accenture, A.T Kearney, Bain & Company, Capgemini, Deloitte Consulting, Point B, Protiviti, RSM McGladrey and West Monroe Partners identified the following types of work as high-demand manufacturing services among North American clients in 2011:
M&A strategy, due diligence and integration
Global transformation/expansion (e.g., market penetration plans)
Complexity reduction
Organizational change management
Talent management
Product innovation
Working capital management
Business forecasting
Process transformation and program management
Lean and Six Sigma initiative
Sales and marketing integration
Sustainability projects
Supply chain optimization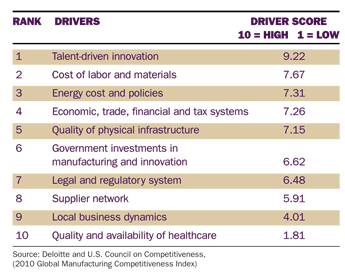 Drivers of Global Competitiveness
Last year, the U.S. Council on Competitiveness and Deloitte's global manufacturing industry group published a report based on a survey and interviews with 400-plus CEOs and other senior executives within manufacturing companies around the world.
The report ranked countries based on their competitiveness—essentially the strength of their manufacturing sectors based on numerous criteria—in 2010 and their projected competitiveness in 2015. China, India and South Korea placed first, second and third, respectively in both assessments. The United States, currently ranked fourth, was projected to slip to fifth by 2015 as a result of being leap-frogged by Brazil (currently fourth). The following table identifies the top-rated drivers of manufacturing competitiveness with 10 being high and 1 being low.
Get More on Manufacturing: See the related story, Q&A with Accenture's John Ferreira. Ferreira is the managing director for Accenture's Management Consulting Manufacturing Practice in North America.