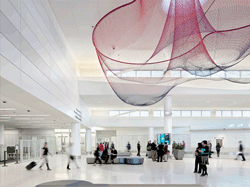 San Francisco Airport's Terminal 2, which was originally built in 1954, has undergone a $383 million renovation and was dubbed by city officials as both state-of-the art and sustainable when it opened for business in April.
The terminal, which includes 14 gates and is home to American Airlines and Virgin America, is Gold-registered with the U.S. Green Building Council. Designed to improve indoor air quality and reduce energy consumption, the sustainable elements will reduce greenhouse gas emissions from the facility by an estimated 1,667 tons per year, project officials say.

The terminal's design includes a number of measures to reduce the carbon footprint, including:
 
Preconditioned Air and 400 Hz Power Supply Systems to reduce jet fuel consumption by aircraft;

 

Energy efficient lighting and machinery to reduce electrical energy consumption.

 

Recycled materials used during construction will save money and reduce the global warming impact of the terminal.

 

Preferential parking for electrical and hybrid vehicles, as well as plug-in electrical chargers for ground services equipment.
The terminal includes paperless ticketing, water reuse/reclamation and high-efficiency plumbing systems. In addition, green building materials, such as recycled-content carpet and flooring made with recycled glass chips, are used throughout.
And airport officials say they expect its food and beverage tenants to provide sustainable food as much as possible.