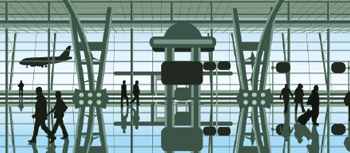 New, more traveler-friendly rules address baggage fees, compensation for being bumped and tarmac delays
The U.S. Department of Transportation unveiled new airline passenger protections in April that will require airlines to reimburse passengers for bag fees if their bags are lost, provide consumers involuntarily bumped from flights with greater compensation, expand the current ban on lengthy tarmac delays, and disclose hidden fees. The new rules go in effect Sept. 1.
• Lost Bags and Bag Fees—Airlines will now be required to refund any fee for carrying a bag if the bag is lost.
• Full Disclosure of Additional Fees—Airlines will also have to prominently disclose all potential fees on their websites, including but not limited to fees for baggage, meals, canceling or changing reservations, or advanced or upgraded seating.
• Bumping—The DOT doubled the amount of money passengers are eligible to be compensated for being bumped from an oversold flight. Currently, bumped passengers are entitled to cash compensation equal to the value of their tickets, up to $400, if the airline is able to get them to their destination within a short period of time. It doubles up to $800 for a more lengthy delay. Under the new rule, those rates increase to $650 and $1,300. Inflation adjustments will be made to those compensation limits every two years.
• Tarmac Delays—The new rule expands the existing ban on lengthy tarmac delays to cover foreign airlines' operations at U.S. airports and establishes a four hour hard time limit on tarmac delays for international flights of U.S. and foreign airlines, with exceptions allowed only for safety, security or air traffic control-related reasons. Airline carriers must also ensure that passengers stuck on the tarmac are provided adequate food and water after two hours, as well as working lavatories and any necessary medical treatment.
In addition, the DOT's new rules will also require airlines to allow reservations to be held at the quoted fare without payment, or cancelled without penalty, for at least 24 hours after the reservation is made, if the reservation is made one week or more prior to a flight's departure date, as well as requiring airlines to promptly notify consumers of delays of over 30 minutes, as well as cancellations and diversions. This notification must take place in the boarding gate area, on a carrier's telephone reservation system and on its website.