By Randy Mysliviec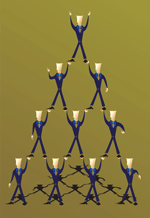 Most consulting leaders recognize that billable utilization is paramount to success, and that effective resource management can improve overall profitability, as well as the quality of services and the predictability of service levels. Yet we haven't seen any real innovation in this arena over the last three decades. While the development and adoption of ERP, PPM, PSA and other tools have helped to some degree, this mission critical business function remains largely unimproved—if not a critical point of failure for many companies.
Recently however, a new breed of process solutions has emerged, borrowing from the Just-in-Time Manufacturing movement of the 1980s, which may ultimately change the landscape of human capital management moving forward.
But instead of "getting the right part in the right place at the right time," these new methodologies focus on "getting the right person in the right place at the right time." Early adopters in the consulting industry are applying these new best-practices to revolutionize their services delivery, drastically improving their overall business performance, and gaining major competitive advantages in the marketplace.
Today's Reality
Technology is changing at an astonishing pace. Moore's law continues to not disappoint the believers, while confounding the skeptics. But in our human capital-intensive industry, most important of all is the ongoing evolution of labor dynamics. Managing projects (and associated labor) is not what it used to be—off-shoring, near-shoring, globalization, price pressures, increasing competition—all things we read about and deal with every day have changed the way we need to manage our labor pools.
Yet with the clear understanding that professional and consulting services is a "people business," too many professional and consulting services organizations still struggle with the basics: project over-runs (both timing and cost), quality challenges, utilization problems, and falling margins. Failure to mechanize processes more completely is frequently blamed on the false assumption or myth that: It's a people business and therefore you cannot mechanize the process like you can a factory. This article will dispel that myth and demonstrate that the process and management of people can be far more mechanized than is commonly achieved or even attempted.
Taking a Lesson from the Past
A look back to another analogous industry transformation provides some helpful insights for consultants struggling with effective resource management. Roughly thirty years ago the manufacturing industry embarked on a journey to transform itself from a carryover of the industrial revolution to more efficient ways of creating products leveraging more modern technology. This included replacing manual labor tasks with robotic gear technology that could perform the same work at a lower cost, and with higher and more predictable quality.
The industry also began to understand that it needed to find ways to both eliminate the cost associated with idle inventory and lower lost opportunity costs due to parts supply shortages when a peak in demand occurred. This was the beginning of what became known as just-in-time manufacturing, whereby parts are predictably supplied at precisely the time needed and timed to perpetually changing demand forecasts. Investments in better IT and supply chain methods incorporating sophisticated forecasting techniques improved the linkages of the entire lifecycle of products thereby improving overall efficiencies and effectiveness of bringing products to market.
The consulting and professional services industry today finds itself in a remarkably similar state as the manufacturing industry of thirty years ago. Simply said, processes, methods, and tools have failed to keep pace with the large disruptions in traditional labor sourcing and management methods. Unfortunately, too many companies have responded with stop-gap and tactical measures, in many cases compounding the problem or delaying the inevitable need for real process change.
Why Not Just-in-Time Resourcing?
If Just-in-Time Manufacturing providing a breakthrough for manufacturers, then why not Just-in-Time Resourcing (JITR)? It's important to understand why the industry has not made more progress in the area of resource management, and in general it comes down to a handful of things that are both easy to understand and more importantly, that we are able to address:
There's been more focus/investment on the processes than on the underlying human capital required to implement the processes;
Organizational silos in many companies ('those are my resources') have tended to bottle up available resources and prevent the sharing of those resources. Manufacturers used to deal with the same problem—in their case discrete inventory locations and ownership of that inventory;
Management attitudes/mindset—the need to acknowledge that you can mechanize the deployment of human capital just as a manufacturer deploys the correct inventory in a timely way;
There is a predominant view in the industry that you "just can't forecast this stuff." That was a similar argument amongst manufacturers in the '70s and '80s, but today sophisticated supply chain methods can vastly improve the accuracy of forecasts;
Not enough investment in IT applications to assist with the task of resource planning and deployment.
The Business Imperative for Just-in-Time Resourcing
Over the next decade, growing competition and marketplace change will continue placing unprecedented pressure on service providers to rapidly adapt and innovate in every facet of service delivery. Effectively and efficiently sourcing and managing resources will be the new high water mark for the industry.
Interestingly, most professional services providers today struggling with utilization problems and the resulting high labor costs have reacted by pushing labor off-shore to lower average hourly labor costs. While off-shoring/near-shoring are certainly a desirable and necessary part of the strategic labor equation, implementing better resource management techniques is also necessary to address the strategic need for sustainable business transformation.
Analogous to targeting near-zero inventory for a manufacturer, professional and consulting services providers should target near-zero non-billable time of on-board resources. For a 100 person consulting team at a $150/hour billable rate to the client, a 5 percent improvement in utilization yields better than $1.5 million in savings. You do the math depending on your situation, but the important message here is simply that utilization efficiency is mission critical for consultant profitability.
Right Person, Right Place, Right Time
Consulting organizations are learning to take advantage of new processes, methods and technology to achieve breakthrough results in the management of human capital. So what's different when creating a JITR environment? Five key things:
Implementing a resource management (RM) specific process which controls all aspects of manpower planning, development, and deployment supplemented by a centralized skills and resource database;
Taking a centralized view (vs. department by department) of all enterprise resources when the process is being executed;
Automating the RM process to achieve speed, integration, accuracy and integration of information;
Implementing a sophisticated forecasting and supply chain methodology with a focus on human capital;
Implementing a fluid recruiting model for human capital (vs. the start/stop approach that exists in many enterprises today) to feed a near real-time resource planning system.
Organizationally, a Resource Management Office (RMO) or equivalent function drives the overall RM process. Given a reliable, transparent and centralized enterprise-wide inventory of skills (type, experience, location, etc.) and availability of human capital, timed demand (forecast and backlog) is compared to the inventory (of human resources) resulting in a placeholder plan for deployment.
The Resource Management Office provides the facilitation of the process to this point, and then begins to fine tune the plan where gaps appear in the recommended plan. The RMO facilitates the dialogue between the various stakeholders of human capital and project managers responsible for project execution, and after some iteration produces a recommended resource plan. The resource pool is constantly being re-evaluated by the RMO to ensure that strategic hiring, training, geographic allocations, etc. are all considered to keep the resource pool tuned to the ongoing needs of the enterprise.
Key Benefits
JITR attacks the human capital problem in a structured disciplined fashion, and can produce substantial benefits including:


Sustainable high billable utilization of human capital;
More on-time project starts with the right staff leading to better project performance;
Lower costs through breakthrough improvements in billable resource utilization;
Improved quality from better skills matching to each project resulting in less rework;
Increased revenues since JITR helps reduce lost opportunities typically driven by resource/expert shortages;
Shifts valuable management time from resource analysis and deployment decisions, to project performance, quality, people management and other more pertinent tasks.
Closing Comments
For consultants, JITR is a major shift in the way we will/must manage human capital in the future. The benefits of effective JITR execution can be substantial in terms of resource utilization and laying the foundation for more effective application of PM and quality processes—ultimately leading to far superior project performance.
Randy Mysliviec leads RTM Consulting, which provides advisory services for technology companies' professional and consulting service businesses.