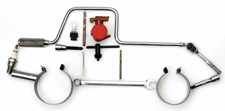 Mesirow Financial Interim Management was retained by Fluid Routing Solutions, (FRS), a leading automotive parts company, to serve as chief restructuring officer (CRO) and provide interim management services and bankruptcy support in fast-track Chapter 11 sales.
Challenge: The company's largest customers were the ailing big-three automakers, but the bigger challenge was determining how best to maximize stakeholder value, save jobs and have as little impact on existing customers as possible. FRS consisted of two distinct businesses: one that was thought by the company's private equity owners (PE owner) to have significant value and the other which was viewed as barely worth its liquidation value. The laggard business faced many obstacles: operating with a zero cash balance; a need to retain all existing customers, and attracting potential buyers in light of the unprecedented economic recession's dramatic impact on car sales.
Solution: The Mesirow Financial Interim Management team worked with the PE owner to enter a stalking horse bid for the profitable business as part of a fast-track sale. At the same time, the team aggressively sought alternatives to a liquidation of the remaining assets (largely the lagging business) and worked diligently towards maximizing value for creditors. Mesirow leveraged the business's standing as a sole-source supplier to the big-three automakers to secure additional funding, emphasizing the fact that its products were clearly needed to finish
in-progress bank builds.
Result: In the end, the big-three automakers agreed with the Mesirow proposal and, in doing so, afforded the team a window to identify a buyer for the business, which resulted in three legitimate offers. Mesirow was able to manage competing interests and deliver the optimal outcome well beyond client expectations. The healthy business was retained by its PE owner, and the challenged business was sold to a buyer for well above liquidation value—all while the clock was ticking within a compressed 45-day window. The deal saved almost 200 jobs in the already hard-hit automotive industry.