Some of our best ideas have come just in the last few years. It's always been part of the publication's editorial mission to recognize the often overlooked accomplishments of women in the profession.
Beginning in 2007, we launched our Women Leaders in Consulting awards recognizing women in the following areas: Lifetime Achievement, Leadership, Client Service and Future Leaders. Each November, we celebrate the award with a gala celebration at the Waldorf=Astoria.
Here are the winners through the years.
2009
Lifetime Achievement
Jeanne Harris, Accenture
Leadership
Marcy Beitle, A.T. Kearney
Lynne Doughtie, KPMG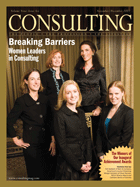 Client Service
Sherry Jones, Capgemini
Robin Tomlin, IBM
Future Leaders
Erika Serow, Bain & Company
Olivia Wakefield Lee, Towers Perrin
Kristen Vennum, North Highland
2008
Lifetime Achievement
Jeanie Daniel Duck, The Boston Consulting Group
Leadership
Holly Benson, Infosys Consulting
Valerie Logan, HP Consulting
Client Service
Vicki Huff, PricewaterhouseCoopers
Janice James, The Huron Consulting
Future Leaders
Karla Martin, Booz & Company
Channing Rollo, Proudfoot Consulting
Heidi Fung, Monitor Group
2007
Lifetime Achievement
Orit Gadiesh, Bain & Company
Leadership
Cathleen Benko, Deloitte Consulting

Client Service
Sharon Marcil, The Boston Consulting Group
Future Leaders
Lauren Chewning, Accenture
Margot Johnston, Oliver Wyman