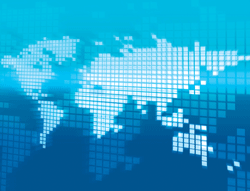 Had time machines existed way back in 1999, telecommunications consultants who dialed up 2009 on the controls might have a hard time believing their eyes: cable companies providing voice service, video streaming over cell phones, a company called "Google" competing against phone companies, and massive new wireless markets in India and China—not to mention those obnoxious-looking thingies clipped to their colleagues' ears.
"Change in this industry never seems to stop, and it is at a frenzy right now," says Greg Jacobsen, Capgemini's global leader, telecom, media and entertainment.
"It's becoming a very complex world," agrees Peter Siggins, a member of PA Consulting's management group who specializes in telecommunications. "Providing a customer experience usually requires collaboration among a number of players within an ecosystem." Google's launch of its new phone, for example, required collaboration between Google and T-Mobile as well as the participation of several other niche players. U.K.-based Vodafone recently partnered with Western Union in a bid to facilitate international money transfers via cell phone—and other companies, including Citigroup and Visa, appear eager to pursue similar opportunities. "The capability to build and operate these collaborative ecosystems is becoming a core competency among [client] companies in the industry," Siggins says. "If you can't do that, it's going to be very difficult for you to do business."
It's a brave new telecommunications ecosystem, and pith-helmeted consultants are venturing into an increasingly competitive wilderness to help different breeds of companies adapt so they can survive and thrive.
The most highly evolved telecommunications consulting firms and practices understand the impact of ongoing economic, regulatory, competitive and technological change and respond by seeding their teams with relevant expertise to help clients adapt to these factors.
Don't Call them Phone Companies
It is a world in which client companies are referred to as "communications service providers" rather than telephone or cable companies. "You could call them phone companies, but you would have a very short conversation," notes Chris Pearson, the global telecommunication industry leader for IBM Global Business Services.
Pearson's focus on language is intentional. "We're trying to get 'communications service providers' into our lexicon so that we don't go in with a traditional mindset," he explains.
He's not alone: nearly every telecommunications practice at mid- to large-sized consulting firms have renamed their practices now that clients no longer exclusively offer what industry veterans refer to as POTS, or "plain old telephone service."
When Jacobsen arrived at Capgemini five years ago his practice was called "telecommunications, media and networks." Today, it goes by telecommunications, media and entertainment. PA Consulting also renamed its practice communications, media and entertainment. Accenture, meanwhile, refers to its telecommunications
practice, the largest industry segment in the firm, as "communications" and locates it in an operating group with high-tech, media and entertainment.
"Thanks to the convergence phenomenon, I have a lot of dealings with everyone in [the operating group], including the handset guys, the network equipment guys,
the consumer electronics companies and portals," notes Andy Zimmerman, global managing director for Accenture's communications segment. That's because the companies Zimmerman mentions maintain relationships—think ecosystem—with his communications carrier clients.
The convergence occurred because the capacity of pipes have greatly increased. Today's increasingly ubiquitous broadband networks send voice, data and video streaming into an ever-increasing collection of nifty gadgets powered by equally nifty applications. "Just five years ago, YouTube wouldn't have been a sustainable proposition," Siggins notes. "Now it is."