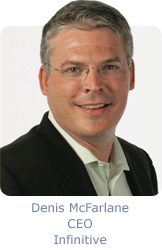 An estimated 25 million Americans play fantasy football each year. And Denis McFarlane, CEO of Infinitive, an operations management firm in McLean, Va., and a recent addition to Consulting magazine's Best Small Firms To Work For ranking, thinks the number should be even higher. He says anybody interested in corporate performance management and business intelligence would benefit from managing a fantasy football team. "Fantasy football sites," he says, "fulfill the grand promises of corporate performance management (CPM) and business intelligence (BI)." Consulting magazine Editor-in-Chief—and fantasy football player—Joe Kornik sat down with McFarlane to discuss the Xs and Os of his strategic position.
Consulting: OK… this was one of the more unusual press releases we've ever received—fantasy football as the template for Effective CPM and BI?
McFarlane: The idea was really to raise awareness and get people thinking—it's not acceptable for any company not have the data it needs when it needs it. Here's an area—fantasy football—that allows people to get real-time data and make quick and well-educated decisions based on that data.
Consulting: How did you come up with this idea?
McFarlane: I'm a fantasy football player and I was thinking how much football data I had right there at my fingertips to make decisions almost instantly about the players I want to play on my team each week. There's a lot of data on these sites, but fantasy football players aren't likely to drown in it because they have the proper tools to optimize the data. Let's say I have a player injured that week, and I have to make a decision on replacing him. I can easily sift through that data and find what I need. I started to think: "Wouldn't it be great if clients could get down to this level of detail this quickly in their business data?"
Consulting: And that's what you help clients do?

McFarlane: We don't do any software development. In some ways, the technology is the easy part. The hard part—and the most crucial part—is getting everyone aligned properly behind whatever system you happen to be using. For most clients, that's really a mindset change. If you don't get that right, the technology aspect doesn't even matter.
At Infinitive, we focus on that process development. It's great having all the best data, but you also need a clearly defined process that everyone can understand and can rally around. That way, when a CEO asks any business question, you can identify how to get the answer quickly.
Consulting: How does fantasy football help with process development?
McFarlane: Here's what happens in fantasy football that most people don't even think about. Every week, you have to have your team prepared. On Wednesdays, for instance the injury report comes out, and you have to get your lineup by a certain day and time—there's a rhythm to the fantasy football season. That's all process driven and it's the same in business, but our clients don't tend to think that way. We tell them that they need to get into business rhythms—a weekly rhythm, a monthly rhythm—whatever the case may be for a particular industry. We'll help them find the right rhythm for their business. For instance, we recently helped a retail client identify a business rhythm. Monday mornings, district managers reviewed store results. Monday at noon, district managers sat down and reviewed the data with the regional managers. Monday at 3 p.m., the regional managers reviewed with the C-level, and then Mondays at 5 p.m. the CEO was briefed. That took us about four to six months to make happen with the client on a regular basis. The CEO said to us, "By Monday at 5 o'clock, here's what I want to see." So, from there we just worked backward. In fantasy football, Sunday is game day and everything works off that premise—the process is already defined.
Consulting: So, it's more about the process, not actually having the proper data?
McFarlane: The reality is that most clients are trying to drink from a fire hose of data; they have so much they don't know what to do with it all. There's usually no problem getting data; the real challenge is defining the right data in order to answer a specific business question. We spend a lot of time helping clients figure out what questions they should be asking of the data. We really want them to focus on a few key data points to help them make sound decisions. It's always better to drive solutions off of a few key data points than it is off a hundred. Fantasy football sure has this figured out; there's no way it would be so popular if it didn't.