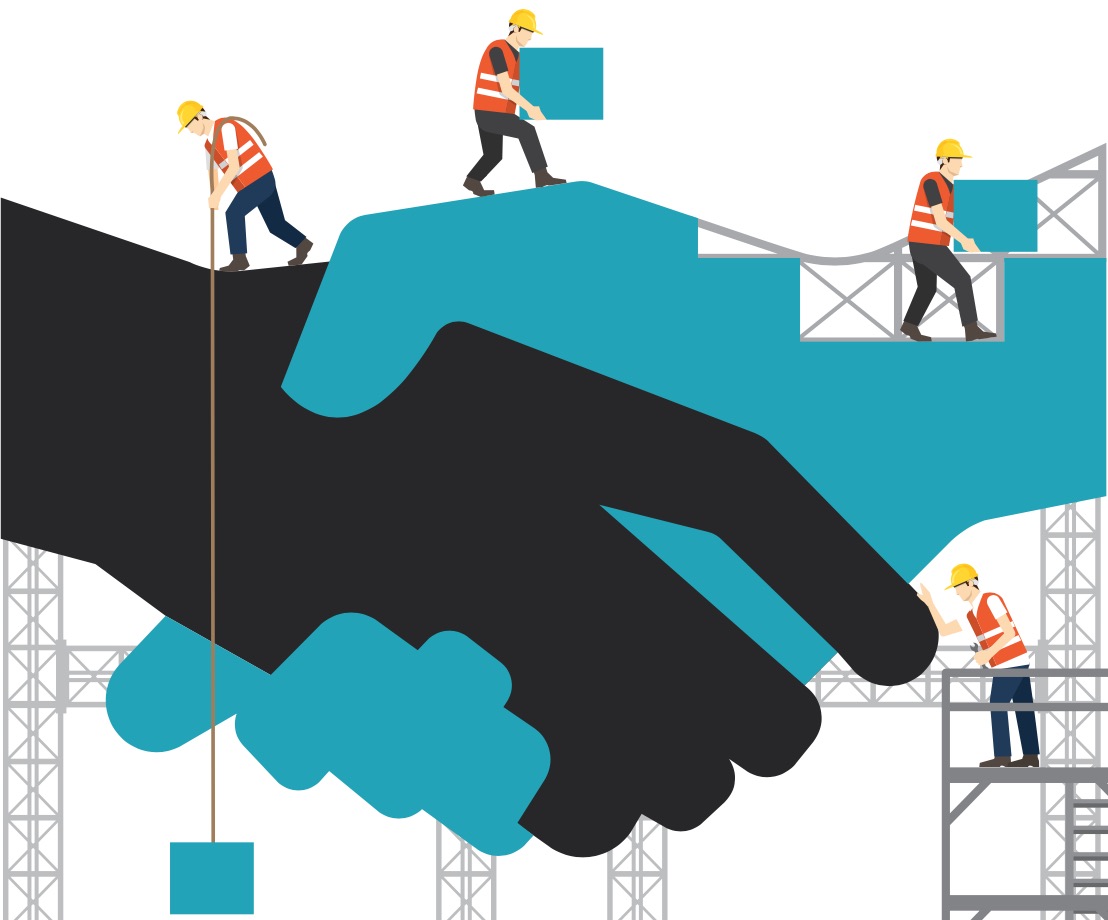 By Dr. Richard B. Davis
Consulting is often a frustrating experience for clients—and no more fulfilling for the consultants concerned even though they get their fee. But consulting…
Consultants on Consulting | Shane Anastasi

A look at how successful consulting may depend on understanding the difference. Ever wondered why projects go off the rails? I do. It keeps me up at…

Consultants on Consulting | Greg Hansen

Many consultants cringe on the inside when others refer to them as a contractor. On the surface, many think there is little difference between the two.…

Consultants on Consulting | Mostafa Sayyadi

Leadership has always been at the forefront of management training. However, the four functions of management depict leadership as one of the four. For…

Consultants on Consulting | Gary Nakanelua

For years, the application of predictive analytics in supply chain management has been described as "transformative," a "big opportunity," the…

Consultants on Consulting | By Dr. Richard B. Davis

Consulting is often a frustrating experience for clients—and no more fulfilling for the consultants concerned even though they get their fee. But consulting…

Consultants on Consulting | by Michael Johnson

I have spent the last 30 years of my career in the consulting business; twenty of those at KPMG and the last ten at a regional consultancy, Bridgepoint…

Consultants on Consulting | Sona Jepson

We've all heard about the perks of consulting—travel, per diems, cool assignments, and advanced learning. We've also heard about the challenges—really…

Consultants on Consulting | Adam Cummins

Being a part of a winning team is often considered a baseline objective for individuals in the professional world. In general, people feel a sense of…

Consultants on Consulting | Haresh Panjavani

I have been practicing business consulting for more than 12 years now. All my consulting colleagues would agree that any sustainable business transformation…

Consultants on Consulting | Ismail Amla

By Ismail Amla Disruption. As consultants, we love to talk about how radical technology shifts are disrupting everything—the markets we work in,…

Consultants on Consulting | Consulting Magazine

I was in the reception area of the Melbourne, Australia office of a global strategy consulting firm, and it took me precisely two seconds to realize…

Consultants on Consulting |

The digital economy is disrupting business and information technology unlike anytime in modern history. This is enabled by the consumerization of technology,…

Consultants on Consulting | Mostafa Sayyadi

Today's globalized nature of competitiveness in oil and gas markets is placing more pressure on companies operating in these industries to develop…

Consultants on Consulting | Vincent Amanyi

Using Manufacturing and Retail Industries as Case Analysis Times are changing with lots of redundancy within the corporate culture of supply chain…

Consultants on Consulting | Sona Jepsen

Change is never easy, even under the best circumstances. You can have a brilliant idea and unanimous buy-in from your team, and you'll still face challenges turning that concept into reality.

Consultants on Consulting | Greta Roberts

Over the past 30-plus years, businesses have spent billions on talent assessments. Many of these are now being used to understand job candidates. Increasingly, businesses are asking how (or if) a predictive talent acquisition strategy can include the use of pre-hire assessments.

Consultants on Consulting | Greta Roberts

Corporate recruiters have a very important and difficult job. They predict who will be a top performer in certain roles and protect against non-performers getting inside the business ecosystem.

Consultants on Consulting | Dr. Lola Gershfeld

Years ago, I served on a board where board members had the most horrible fights and the most destructive interactions. In spite of all that, the most poignant thing was, I knew that they really cared about the company. That idea completely intrigued me.

Consultants on Consulting | by Sona Jepsen

Anyone attempting to establish a reputation as a consultant—or establish the right rate for her services—will struggle in the initial stages. It's always a risk to go out on your own and demand fair compensation.

Consultants on Consulting | Jeff Roth

Zombies have an everlasting place in our popular culture—from the scary movies we watched as kids, to Michael Jackson's Thriller video, to a resurgence of zombie-themed movies such as World War Z and television shows like The Walking Dead.

Consultants on Consulting | Joe Kornik

It's time to get past the hype and deliver solutions that provide real customer value. O.K. So you're probably rolling your eyes thinking you're about to be fed a big steaming bowl of buzz soup. And for good reason.Consider the ubiquity of "Big Data" and the "Internet of Things" (IoT).

Consultants on Consulting | Joe Kornik

An ounce of self-restraint is worth a consulting gig By Mark Goulston A few years ago I gave a presentation to the Institute of Management Consultants on…

Consultants on Consulting | Gary Sturisky

"Mind-boggling." That's one way to describe the pace of change in today's business environment. To succeed, businesses have to be willing to change, innovate and take educated risks. And the old adage "opportunity rarely knocks twice" is still around, simply because it happens to be true.

Consultants on Consulting | Mark Livingston

It's no secret—business is undergoing a sea change as mobile, cloud and analytics platforms spur radical transformations in the way enterprises operate.

Consultants on Consulting | Greta Roberts

Today's business executives are increasingly applying pressure to their Human Resources departments to "use predictive analytics."

Consultants on Consulting | Kyle Loving

The traditional sense of management consulting sprouted into existence during the Second Industrial Revolution in the late 19th century. Manufacturing methods became more mechanized and electrified, and therefore more efficient; as a result, a need for process improvement emerged.

Consultants on Consulting | By Walter Kiechel III

Born almost exactly 100 years ago in Nashville, Tennessee, Bruce Henderson was in some respects a man ahead of his time. He would have reveled in the current era of "big data" and the business analytics it permits. But then again, that era might never have arrived, or arrived much later, if it hadn't been for the strategy revolution Henderson helped set in motion.

Consultants on Consulting | Fiona McKenzie-Wilde

Culture is the glue that binds a firm together and it's the hardest thing for competitors to copy. It plays an essential role in the performance of any business, and as an industry, consulting is highly dependent on the values and loyalty of individuals. Consulting firms rely on the culture and morale within their organizations more than most.

Consultants on Consulting | David Whitehouse

Are you at risk of "getting Uber'd?" With smart devices accepted as the new standard, and more and more start-ups reinventing tried and true industries (like Uber and taxis), ignoring the disruptive qualities of digital is no longer an option. What follows is a set of five "must-haves" that your organization should include in its thinking when developing a digital strategy, as well as three keys for long-term success.

Consultants on Consulting | Renée Robertson

Coaching means many things to many people. Many times a certain technique that is referred to as "coaching," isn't really coaching at all; it's actually counseling or feedback.

Consultants on Consulting | Sarha Wolf

Accountability is crucial to ensuring high performance within an organization. This isn't groundbreaking news! So, why isn't incentivizing accountability a core part of every business? Studies have shown the organizations that thrive with engaged and motivated employees have managers that spend 10 percent to 20 percent of their time on professional and personal team-building activities.

Consultants on Consulting | Joe Kornik

The decision to outsource or not is a fundamental one for most businesses. Firms need to be fully aware of the pros and cons and enter the agreement with their eyes wide open.

Consultants on Consulting | Joe Kornik

Clients often struggle with obtaining the projected Return on Investment (ROI) from large Information Technology projects. Many key improvements are delayed to "Later Phases" that frequently don't materialize or lose momentum. How do you maintain client focus, and deliver the value that they demand?

Consultants on Consulting | Joe Kornik

The convergence of IT and telecom has changed the landscape of telecommunications. In fact, the term "telephony" may be dying a slow death. Today, we're primarily talking about "communications"… "IP communications."

Consultants on Consulting | Joe Kornik

Look no further than the gas pumps to see the extraordinary, often nonsensical, choices made by shoppers reacting to comparisons. You may be tempted to dismiss such behavior as irrelevant and only applicable to low-impact decisions like choosing a brand of gasoline or even a new computer. However, the truth is the vast majority of choices are strongly influenced by comparisons.

Consultants on Consulting | Joe Kornik

Deep-rooted economic, social and demographic trends are changing the way we live and work. It's down to consultants to demonstrate how they can help clients stay afloat in choppy seas and anticipate the rogue waves on the horizon, argues Hay Group CEO Stephen Kaye.

Consultants on Consulting | Joe Kornik

In this uncertain healthcare environment, a distinct demand exists for outside experts who can help guide healthcare professionals through a changing, and often confusing, regulatory environment. Consultants with expertise in a specific aspect of care or avenue of delivery have ample opportunity to influence the healthcare field—especially those who can inform and improve hospitals' nursing practices.

Consultants on Consulting | Joe Kornik

For many consultants, working with large corporations has significant appeal. With the revenues of the Fortune 500 greater than 75 percent of U.S. GDP, the impact of big business on the economy is hard to overstate.

Consultants on Consulting | Joe Kornik

In my experience, real estate and facilities management (RE/FM) executives have not traditionally enjoyed as much access to or involvement with C-level leaders as our peers in finance, HR and IT. There is an old joke that asks how RE/FM leaders get a seat at the table for senior-level meetings, rather than simply providing the table.

Consultants on Consulting | Joe Kornik

They say that doctors make the worst patients. Along those lines, consultants surely make the worst clients. Or, at least, the most difficult negotiators. Whether that's true or not, I can vouch for the most difficult consulting contract negotiation I ever conducted being at the hands of Aaron Veshama, the COO of a Massachusetts-based consulting firm.

Consultants on Consulting | Joe Kornik

Compliance risks and costs are on the rise. An increasingly complex regulatory environment is stretching many corporate compliance departments to the breaking point and sending the cost of compliance through the roof.

Consultants on Consulting | Joe Kornik

In his book "Tribes," Seth Godin makes a compelling case that we are all tribal members—that being tribal is part of being human. Godin notes only two things are necessary for a tribe to form: shared interest and a way to communicate. By this definition, every business is a tribe.

Consultants on Consulting | Joe Kornik

I was recently on a run listening to one of my favorite live albums, "Alive," by Daft Punk. However, this time I found myself not just listening to the music, but listening to how the crowd responded, the transitions between songs, and timing of the drops and crescendos.

Consultants on Consulting | Joe Kornik

Innovation is a key factor for a firm's growth and long-term survival. But innovation is a like a coin with two sides; it can be "incremental" by adding to existing processes, or it can be "radical" by making existing processes redundant and demanding new technology, expertise, and resources to establish fresh processes.

Consultants on Consulting | Joe Kornik

One of the first steps in any project is to gather requirements from stakeholders, understand them and then verify them with the same stakeholders. Once verified, requirements can be given to developers and they can go on their merry way. But there are some who don't see the value in documenting requirements.

Consultants on Consulting | Joe Kornik

In the dozens of conversations I have with business leaders, I hear a common theme: "We've done the cost cutting and adjustments. We've done the necessary re-sizing, and we've done the hard work of recalibrating our cost structure to support our core business. We're profitable, and we are holding loads of cash. Now what?"

Consultants on Consulting | Joe Kornik

You could easily drown in the sea of articles and books about making rain. Countless web sites and training firms are dedicated to upgrading consultants' business development skills. This article isn't about landing new clients and it's not even about winning follow-on projects with your current clients.

Consultants on Consulting | Joe Kornik

The concept of shared services—with back-office functions organized on an enterprise-wide basis to deliver higher quality and lower cost—has transformed how companies organize their administrative and support functions over the last 20 years.

Consultants on Consulting | Joe Kornik

It's hard not to laugh when recalling the sixteen German violinists who sued for higher pay on the grounds that they played more notes than musicians who toot trumpets or blow oboes. Judging the value of a performance based on the number of notes played is obviously absurd.

Consultants on Consulting | Joe Kornik

It's time for providers of market intelligence and databases to make a formal commitment to their clients that every one of their data points is current and as accurate as possible.
LOAD MORE