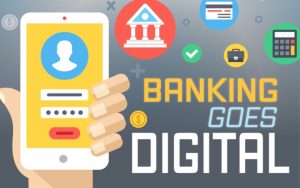 As retail banks look to completely "change their DNA," consultants can help navigate the disruptive digital transformation, including revamping the customer experience and completely overhauling legacy technology systems—some dating back to the 1960s.
Digital transformation is getting difficult for retail banks. This is an encouraging sign for consultants and, even more so, for retail banks.
During the past decade, most banks dipped their toes into digital transformation by focusing on the front end of their operations. They revamped web sites, created new mobile phone apps and explored ways to emulate the "FinTech" start-ups piling into their sandbox. More recently, traditional banks appear to have reached digital-transformation turning point.
As recently as 18 months ago, many retail banks "hadn't really gone full-throttle into digital transformation," says EY Financial Services Advisory Digital Leader David Deane. "In the last 12 months, that's changed quite markedly. We're now doing a number of transformations for some of the largest retail banks." Other consultants who work in the space also confirm that clients are eager to commit the resources and energy needed to conduct genuine, "Big T" transformations centered on new digital capabilities, products and businesses.
To be sure, emerging technologies represent both a crucial driver and enabler of this shift. Robotic process automation (RPA), artificial intelligence and related advancements can automate large volumes of work in the middle and back office that was too ambiguous, unstructured, and complex for previous technology to automate. "I've spoken to experts who talk confidently about being able to take 60 to 70 percent of cost out of some middle and back office banking processes—while simultaneously delivering exponential increases in speed of service, reports ALM Intelligence Associate Director, Lead for Digital Consulting Research Brendan Williams. "Imagine loan decisions that occur within hours or minutes rather than weeks. And this is with today's proven technology."
Achieving these types of results, however, often requires major amounts of related work, including activities related to strategic planning, process re-engineering, customer experience (CX) management, talent management and cultural adaptation and change management.
"A lot of [retail] banks are striving to change their DNA," notes Eric Piscini, the leader of Deloitte's digital transformation and innovation offerings in the financial services space. He points to a large bank that hired roughly 2,000 software engineers last year without adding a traditional banker to its sizeable workforce. "That gives you a sense of where these banks are investing," Piscini continues, "and of what they think will make the difference going forward."
Defining 'Digital' and 'Transformation'
Not all digital transformation work inside retail banks rises to the level of DNA replacement. But exactly what qualifies as "digital transformation" raises timely questions. "Everybody and their cousin are claiming to do digital in terms of consulting," notes Tomek Jankowski, ALM Intelligence Senior Analyst, Lead for Finance Management Consulting Research. "The definition is difficult to nail down."
Many banks have experienced some difficulty distinguishing between digital transformation and basic digitization, Williams notes. Digitization might involve taking a paper mortgage application or an invoice and scanning it. "Basic digitization is a necessary first step, but on its own, it often only results in modest improvements in performance," Williams explains. "Going one step further and inputting the data digitally from the start is a help. But you're still managing a process that was designed for a world of paper forms. You haven't taken advantage of most of what digital has to offer. Changing the business processes will be a big step forward. And then automation comes in, and starts to replace the people, and the processes become more and more autonomous, resulting in significant increases in speed and reductions in cost."
So far, the sector's progress toward genuine digital transformation varies from bank to bank. "Overall, organizations are in different phases of the digital transformation," reports Clayton Mitchell, a principal in Crowe Horwath's risk consulting area who specializes in financial services. "Some banks are already at the target state and in the process of enhancements while others continue to struggle with planning and determining their digital strategy."
The largest banks generally have notched the most progress, although some larger banks with more complex structures and larger geographic footprints have lagged behind. Although many smaller and mid-sized banks confront unique challenges—including higher talent-management hurdles—small digital start-ups (i.e., FinTech companies) have so far benefitted from some structural advantages, including a lack of decades-old information technology (IT) systems and freedom from many regulatory requirements.
Given these variables, industry experts and digital-consulting leaders agree that it is wise to establish upfront with clients what digital transformation means and involves.
"I would start by defining what digital transformation means," says KPMG Financial Services Digital Transformation Leader Anthony Rjeily. He explains that digital transformation in retail banks typically involves one or more of three interrelated dimensions.
The first dimension, "digital customer," centers on using digital methods to redefine and enhance the way customers interact with the bank. Most banks have ventured down this path—with "mixed results," Rjeily says. "Some of the large banks have been very successful in defining and designing new customer experiences while leveraging digital to automate those personalized experiences."
The second dimension, "digital enterprise," leverages digital technology to transform business processes, especially those in the back-office, and update the bank's legacy IT infrastructure and data architecture. "Over the past 12 months, this has become much more of a hot topic" with retail banks, Rjeily says.
The final dimension, "digital innovation," concerns the strategy and structures banks use to compete, innovate and grow. This work addresses big questions: Should a bank collaborate with a FinTech competitor or acquire it? If a bank chooses to develop a new digital product or business, how should that business be structured and does it sit inside or outside of the bank's existing structure?
Punching the Growth Button
These types of questions arise due to several factors. While new and emerging technology—including advanced data analytics, robotic process automation (RPA), blockchain and more— represents a significant disruption to retail banks, these advancements are not the only forces fueling digital transformation.
Disruptive technology and the rise of FinTech companies that run on it have existed for several years—Mint.com was founded more than a decade ago. The current desire for comprehensive digital transformation among retail banks is also being driven by a return to growth mode and changing customer expectations—along with some lessons banking leaders learned during earlier transformation efforts.
In the lengthy wake of the global financial crisis, banks were forced to focus heavily on establishing and sustaining regulatory compliance with Dodd-Frank and other new rules. This focus caused most banks to under-invest in digital innovation. Most regulatory compliance efforts have shifted in nature from all-consuming scrambles to more agile and efficient programs. This shift has helped free up more resources for innovation and growth, notes Piscini, who points to cost-reduction as another driver of current transformation efforts.
"Digital transformation is not only about the front end—that app on your phone," Piscini says. "Digital transformation should go all the way down to the general ledger (GL)—we call that 'device to GL' transformation." This deeper form of digital transformation can reduce costs through the introduction of more automation.
Digital Poses People and Process Challenges
EY's Dean agrees that retail banks have shifted their focus from the front end to the back end in their pursuit of digital transformation. Of course numerous technology, process and talent challenges exist in the back end. "And they're trying to address all of these issues simultaneously," Deane continues "It's a huge undertaking."
Mitchell agrees, noting that enhancements to the digital infrastructure of a financial institution require a substantial investment. Mitchell, Deane and other banking consultants indicate that the following challenges feature prominently in this huge undertaking:
Digging into the Back Office
Pre-financial crisis digital transformation efforts were largely compliance-driven. More recent digital transformation efforts focused on improving the customer experience have collided with obstacles that require extensive back-office process redesign and automation work.
"Starting in 2009, regulatory authorities began forcing banks to upgrade some of their very basic back-office technology platforms," Jankowski says. "Since then, however, many banks have tended to focus most of their digital efforts on the 'sexy' front end – on the customer-facing side of things. Only very recently, in the past 12 months or so, have banks recognized that all of the wonderful, shiny technology that wows the customers means a lot less when their back-office processes are stuck in 1977."
Yet, those 1970s-era processes look positively cutting-edge compared to some legacy technology systems (which date back to the 1960s or even earlier) lurking in the depths of many IT environments. In addition to seeking consulting help with modernizing the IT core, banks need help "taking complexity and costs out while simplifying and streamlining" in the middle and back office, Deane reports. "Most banks are doing substantial work in these areas."
Piscini agrees, noting that banks are asking for help understanding what types of business re-engineering they need to do to become digital. These questions lead to a lot of business-process work. "We might look at how a bank opens a loan, for example, and then decompose the process," Piscini explains. "We identify those steps that are being manually managed or inefficiently managed. And then we'll look at replacing that step with a piece of technology or eliminating the step if that's possible."
All of this work needs to be conducted in a way that sustains the organization's compliance with all relevant regulations—no small task. (See "Regulatory Obstacles," next page.)
Fortunately, process-related transformation work represents a long-standing strength within many consulting firms. "From a consulting-heritage perspective, many firms are extremely process-oriented," says Jankowski. "While they can do digital competently, their nature is to go in and fix the bank. And there is a lot of meaningful work to be done in the back office."
Redefining Customer Experience
Thanks to heightened customer expectations—largely shaped by the digital experiences delivered by GAFA (Google, Apple, Facebook and Amazon)—providing a convenient digital experience has become table stakes for banks.
"That doesn't mean it's easy—having a compelling front end is relatively straightforward, but actually delivering a great experience is still difficult for many banks, especially when you mix in-branch and digital components of the experience – and the reason why it's so tricky often gets back again to the legacy technology issue," says Williams. "It's hard to graft a digital front-end onto a 50-year-old mainframe architecture. Designing a nice app isn't really that hard anymore, but that's just scratching the surface. And, of course, the CX still ultimately comes down to the culture—you have to care."
This cascading set of CX challenges is keeping consultants busy. While the largest banks have made strides identifying how they intend to transform the customer experience, many banks outside of the top-five need help getting started. "The largest banks have spent a lot of consulting dollars on getting help re-imagining the customer experience, redesigning websites, developing new apps, and so on," Rjeily notes. "From a consulting perspective, the opportunity regarding tier-two and tier-three banks is still very significant."
Addressing Skills Gaps
New technology and new customer experiences require new skills. Given the fact that so many traditional banks, FinTech companies and other technology companies are looking for the same skills, talent management qualifies as a major digital-transformation challenge. That's why large banks, as Piscini points out, are hiring engineers rather than loan specialists.
"FinTech is drawing a lot of strong talent because it's exciting, it's innovative, it offers a different kind of culture compared to what you see in the traditional banks," Rjeily says. "From a digital perspective, the war for talent is very difficult right now. And it's just going to get more challenging for retail banks."
Williams agrees that attracting, recruiting, motivating, and retaining the right people with the right mix of business, technology, and people skills qualifies as a top challenge retail banks face in their digital transformations. "It goes for the consultants as well as for the banks," he adds, "but due to the nature of the compensation and career opportunities they can offer, the consultants generally have an advantage over their clients when it comes to attracting digital talent."
Managing Change, Shaping New Cultures
The organizational cultures within traditional retail banks were designed to manage risks and serve customers; few are renowned as hotbeds of innovation. This can be a problem when banks acquire new technologies or develop new digitally enabled businesses.
"When banks acquire new technologies or capabilities, they tend to integrate them very quickly without really thinking of what they need to preserve," Rjeily explains. "The innovation often loses its focus or gets completely lost in the very large legacy environment."
As a result, banks seek consulting help related to change management and to fostering the structures and behaviors needed to develop and sustain digital innovations. Some of the largest banks have developed innovation functions; others have established venture capital arms to invest in certain FinTech companies. "They've developed some very interesting labs and completed a bunch of proof of concepts," Rjeily says. "But many have struggled to integrate these [digital] innovations—or 'fintegrate' them—back into their core business in a way that harnesses significant business value."
Separately, Rjeily, Deane and Piscini assert that clients are seeking help identifying the best business and operating models to deploy to drive digital innovation. "That's a very hot topic right now," Rjeily notes. It is likely to remain so given the deep nature of current digital transformation work—and retail banks' commitment to transforming that these substantial investments and huge undertakings demonstrate.
Sidebar 1: Regulatory Obstacles
Retail bank leaders believe they should be doing everything in their power to achieve a single view of the customer, but that's not how the regulatory authorities see it.
"When banks strive to achieve that single view of the customer, banking regulations are one of the first brick walls that they hit," says ALM intelligence Senior Analyst, Lead for Finance Management Consulting Research Tomek Jankowski, who points to Know Your Customer (KYC) checks and Anti-Money Laundering (AML) regulations that pre-date the financial crisis. "Some of those rules force banks to ring-fence certain operations so that one person in the bank can't talk to another person in the bank about a customer. Some of the customer experience challenges banks confront relate to poor internal organization but many of them relate to regulatory requirements, which are likely to intensify in response to cyber risks."
Clayton Mitchell is a principal in Crowe Horwath LLP's risk consulting area who specializes in financial services. He notes that regulatory requirements continue to change, and these changes will likely affect the pace of digital transformation among banks. "Changing regulatory and business requirements," Mitchell notes, "hold back progress in these situations, regardless of whether the regulations are more or less stringent." —E.K.
Sidebar 2: Algorithms, Robots and Blocks: Oh, My!
When it comes to blockchain, the times—and implementation approaches—have changed. And quickly.
"Two years ago, I spent most of my time trying to convince clients to use blockchain," jokes Eric Piscini, the leader of Deloitte's digital transformation and innovation offerings in the financial services space. "Today, I spend most of my time trying to convince clients not to use blockchain."
Piscini's underlying point — that banks should proceed thoughtfully when testing and implementing blockchain applications — is serious and shared by other consultants. A recent Harvard Business Review (HBR) article, "The Truth About Blockchain," lays out the case that blockchain adoption will "take years" to play out along a predictable and gradual journey because it represents a foundational technology rather than a disruptive technology.
"Most of what's going on now with blockchain involves smaller, more measured implementations," says Keystone Strategy Chairman Marco Iansiti, who is also the David Sarnoff Professor of Business Administration Unit Head of Technology and Operations Management at Harvard Business School — and the co-author of the HBR blockchain article. "Blockchain initiatives that include a small number of partners within a private chain seem to be working well." While Iansiti remains enthusiastic about blockchain's ability to transform banking, other businesses and the public sector, he believes that this revolution will take "many years" to unfold.
When descriptions like "measured" and "gradual" are used to describe the technologies driving transformation, it speaks well of companies' commitments to these fundamental changes. When banking consultants discuss largescale transformation projects, they typically spend more time talking about legacy systems, back-office process and the customer experience than they do about mind-bending technological implementations.
While technology plays a crucial role in driving and enabling the digital transformation of retail banks, those advancements likely to deliver the greatest impact over the short-term sound fairly familiar.
ALM Intelligence Associate Director, Lead for Digital Consulting Research Brendan Williams points to the impact of the data analytics embedded in new forms of automation. "These analytics help humans make better decisions," he adds. "Analytics are being applied in a lot of interesting areas, including fraud-detection for insurance claims. The algorithms are surprisingly good at detecting the patterns behind legitimate claims, and flagging examples that deviate from those patterns." —E.K.