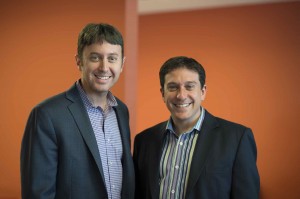 14. RightPoint Growth Rate: 198% HQ: Chicago
Rightpoint is a customer experience agency with technology at its core. Serving Fortune 1,000 companies, Rightpoint is driving transformational change from the inside out. Founded on the belief that great customer experiences are fueled by the people who deliver them, Rightpoint's mission is to remove barriers and uncover new possibilities to connect companies with their customers. Rightpoint's client base includes Aon, United Airlines, McDonald's and Walgreens. Co-CEOs Ross Freedman and Brad Schneider sat down with Consulting to discuss the firm's extraordinary performance and No. 14 ranking.
Consulting: What were the main factors that contributed to your firm's exceptional growth?
Schneider: In the past year, we've deepened our expertise and broadened our capabilities and geographic reach. These are strategic moves that bolster our position as a leading national digital agency with the unique ability to own the end-to-end customer experience. The biggest contributor to our growth was our acquisition in April of Boston-based Agency Oasis. This acquisition expanded Rightpoint's existing presence from Chicago, Detroit and Denver to five new markets including Boston, Los Angeles, Atlanta, New York and Dallas.
Consulting: How is this year shaping up for your firm?
Freedman: This year has seen a surge in hiring to more than 300 employees nationally encompassing nearly every area of the company including several industry veterans, who have strengthened Rightpoint's leadership team and our position as a strategic customer experience agency. The union of Rightpoint and Agency Oasis has amplified our capabilities within the healthcare and financial services sectors.
Consulting: What is firm's outlook for 2017? Where do you see the most opportunities?
Schneider: We're extremely bullish about our opportunities for growth in the coming year. CMOs are struggling to bridge the gap between consumer expectations and brand execution. We're capitalizing on this unmet need in the market, helping clients navigate the Marketing and IT complexity to better serve customers across messages, touchpoints, systems and platforms. Our acquisition of Agency Oasis aligns with Rightpoint's accelerated growth strategy. With our expanded capabilities and growing line of services and holistic approach to customer experience, we expect our growth to continue to skyrocket in 2017.
Consulting: What would you say are your firm's biggest challenges in 2017?
Freedman: With our first major acquisition completed, our primary focus is on the integration and rebranding of Agency Oasis under the Rightpoint banner. As our integration team works to align core operational functions such as HR, Accounting and technology, as well as service offerings and best practices, we will continue to accentuate and preserve Rightpoint's culture as a competitive weapon to find and retain the best people in the industry.
Consulting: What does being named one of Consulting's Fastest Growing Firms mean to your firm, your employees and your clients?
Schneider: Being named a Fastest Growing Firm for the second straight year is a great affirmation of the momentum, speed and consistency of our growth for nearly a decade. We recognize that this is an outcome of the level of excellence that our team members strive for each day in order to ensure superior results and gain the trust of our clients.