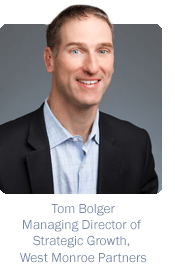 When Tom Bolger took the reins as Managing Director, Strategic Growth for West Monroe Partners, the firm was growing at a healthy clip of 30 percent annually (compounded) since 2010. He was tasked with helping the firm scale and adapt to sustain those levels of growth as the firm's headcount and geographic coverage ballooned. Since his promotion, the firm already made two high-profile acquisitions, On Point Consulting and Madonna Solutions Group. Bolger says to look for more acquisitions in the next year or two in the New York and Los Angeles markets as West Monroe Partners looks to bring its burgeoning geographies to scale and continue its impressive growth track. Consulting caught up with Bolger to discuss the firm's strategic direction and what it's looking for in potential acquisition targets.
Consulting: How would you describe the firm's strategic growth direction?
Bolger: The way we describe it in colloquial terms is we had a very well-running, efficient organic growth engine for the firm from 2002 until today with 30 percent compounded annual growth over the last five years. We knew as we continued to get larger it would be harder to sustain those levels of growth, but we sort of built the organization to be a high-growth, high-energy type environment. We wanted to look for opportunities to sort of augment or offset, in football terms if that was our ground game these were going to be big chunk plays. We had three things we put inside of strategic growth, M&A or corporate development, geographic expansion as well as the innovation network, we have an internal innovation engine that spins up new practice areas for us. These were things that were intended to maintain our historically high growth rates as we got larger.
Consulting: West Monroe has made two big acquisitions in the last few years, what were you trying to achieve through this growth?
Bolger: Historically in the M&A space we've been very strong with financial buyers, private equity funds mostly. We had branched out to commercial banks and done a fair amount of M&A activity but hadn't really addressed the strategic buyer community very effectively. With On Point Consulting, that's all they did. It was sort of an adjacent transaction—they focus exclusively on strategic buyers. They were selling to corporate development managers and directors, helping them with pre-acquisition planning, diligence and post-integration planning. So that worked really well, and had the second benefit of adding leadership to our Minneapolis office. Madrona the strategy was a bit different. We needed more technical depth on the West Coast. Madrona really cemented that and we were able to add a lot of technical depth beyond analytics. We also added Raleigh as a secondary geography, which was a good benefit that came with it.
Consulting: How did these acquisitions help WMP's strategic growth in action?
Bolger: Both have had a huge impact. On Point was a little more strategic in terms of our ability and results as we have gone out and penetrate into the strategic buyer community. We've seen a significant uptick in the number of clients who would fall into that strategic buyer community and we have a much broader array of services there, we're much more focused, more thought leadership, etc. That has had a really big impact strategically and been very positive as we've expanded that offering nationwide. The Madrona acquisition created a lot of scale in the Seattle market specifically. We went from about 35 people and after the acquisition we were closer to 70 people in that market. We've seen our growth really accelerate there in part from having more people there. Financially, culturally and otherwise that's been a success for us and has created a platform that allowed the Seattle office to grow a lot quicker post-transaction than pre.
Consulting: What are some other sources of growth you're looking to?
Bolger: We'll continue to look at acquisitive growth. One thing we learned from the process of going from 35-70 people in Seattle was we had so much more presence in that market, we saw our growth accelerate and our profitability stabilize and achieve higher levels. A lot of good things happened from being at scale. So we went back and looked at some of the other markets we had gone into over time. It was almost an inflection point that we hadn't seen that once you got up to a certain size given the way we run the business the business would continue to grow on its own with a little less effort. What we're trying to do now is accelerate some of the markets we're in, specifically New York and Los Angeles up to at least 50 people to bring them to that more self-sustainable size. As we look at 2015-2016 we're looking to do a set of pretty specific acquisitions in those markets to help accelerate the growth in those geographies.
Consulting: What are you looking for in potential acquisition targets?
Bolger: In New York and Los Angeles that core underpinning of technology is really important to us. Our mantra is we want to buy businesses we know how to manage. We feel we know how to manage technology consulting practices really well. So we're not looking to make a lot of adjacent transactions. We're looking to take something we already do really well today and look for a geographic expansion opportunity. We have a team of people on the strategic growth team actively sourcing the marketplace and we're very actively pursuing this. Culture and people is the number one thing for us. But in consulting we're in the people business. We're 100 percent employee owned, so it's a very thoughtful and rigorous process. We looked at 74 deals last year and we did one. This year we're expecting to look at over 125 and maybe do two. We're being very selective.